Wire Stock Surges as Copper Market Gets Hot
So far in today's trading, stocks are posting a confident comeback from yesterday's sagging momentum. A poor earnings showing from Walmart, under pressure from Amazon, helped drag down the Dow during yesterday's trading. Tech stocks meanwhile, provided an anchor of upward momentum.
That trend continues today, with tech shares leading a broad-based rally. Strong corporate earnings continue to spar with rising interest rates in investor analysis.
This rising volatility should continue to benefit news-based traders, who can make more money as the correlation between all stocks grows lower. Keep checking our blog to get a sense for how many ways a smart trader with a good news-analytics platform can attack the market. Or, if you're ready to learn more about using our platform, use the button below to sign up for a totally free training seminar: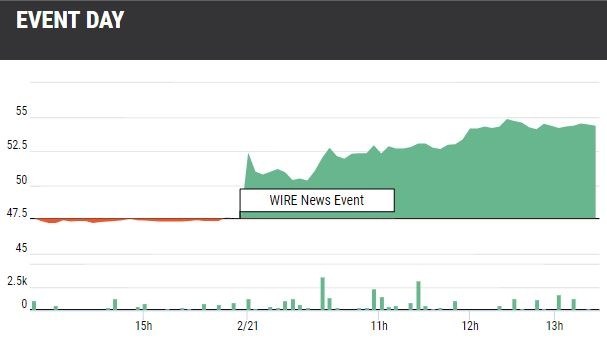 Often, our Top Performer Reports are dominated by flashier news items on trendy stocks like blockchain or volatile sectors like pharmaceutical development. But traditional stocks can be a lucrative source of news-based trading profits as well.
And Encore Wire, which buys copper and aluminum, and sells wire, is as traditional as they come. Specifically, they make electrical building wire for commercial, industrial, and residential applications.
They reported 2017Q4 earnings this morning. Net volume sold was up overall, around 5%, a strong showing. The average price for this volume, however, was up an astounding 22% year over year. Copper is one of several commodities witnessing price pressures as the economy continues heating up. The "spread" of copper wire price over copper has increased along with the price of the raw metal.
Investors started adding the stock to their portfolios on the results, driving the stock to gains bouncing around 15% at the time of this writing. Stocks like WIRE, which are highly sensitive to the price of a given commodity, like copper, provide an interesting hedge for the current market environment. Growing demand should spur continued sales volume growth, even as building price pressures push metal costs up. Meanwhile, large buyers like WIRE are more likely to maintain strong supply flows as scarcity builds.
Great Stock Plays, Every Day
Keep checking our blog: every market day, we'll discuss a highly profitable news-based stock play. Short and long, microcap to mega-cap, we beat market averages using all sorts of trades. Of course, our users get access to hundreds of news data points each day. Click here to sign up for no obligation, free training seminar on the News Quantified platform.