Winter Profits Continue Piling Up: 12/19 Top Performers
Markets have slipped from the price appreciation trend of the last several sessions so far this Tuesday. All major indexes were down modestly at the time of this writing. On a lighter news day, most macroeconomic news has been positive, suggesting that the selloff simply represents some end of year profit taking.
In today's Top Performer Report, we take a look at two long plays, including a past Top Performer that is again among our long play leaders for the day.
News Quantified users utilize our system to not only make same day momentum trades but to find highly profitable medium-term buy-and-hold positions.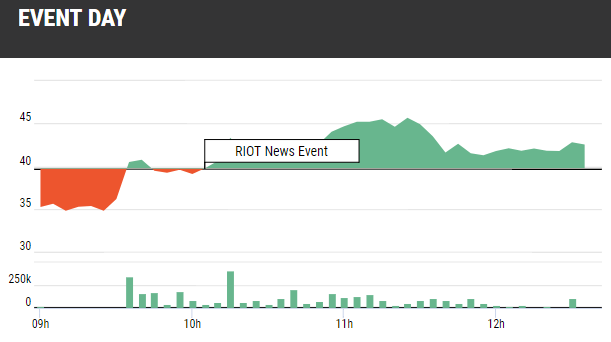 We identified Riot Blockcahin as a highly profitable play on the blockchain trend back on November 24 (Black Friday).
The stock indeed turned out to be the ultimate Black Friday Deal: it gained 100% on the session. We successfully saw that RIOT's naming of a top financial industry executive to its leadership team could be a turning point for the stock's price, writing:
"Investors are eager for avenues to blockchain profits, but it's difficult to know which firms are real players in an emerging industry that has a "Wild West" element at this early stage. The addition of a successful executive from a more traditional investing background is a powerful signal to investors of a given firms analytical solidity and longterm viability."
Since this time, RIOT has made News Quantified users who bought on this event a lot of money.
As the blockchain trend continues to fire on all cylinders, some analysts are beginning to call "bubble." Indeed, multiple analysts condemned RIOT's current valuation this morning. But their analysis appears unable to penetrate investor enthusiasm for their blockchain tech.
The stock is up nearly 20% so far on the session. Blockchain-hungry investors simple saw analyst pessimism as a buying opportunity.
While blockchain technologies are grabbing more media attention and investor fervor, pharmaceutical development companies continue to match blockchain nearly punch-for-punch in our Top Performer reports.
Investors are piling into TYME today on news that they will be presenting data on a new pancreatic cancer treatment at a major research conference.
Blockchain and pharma have something in common: the more highly valued equities become after a historic bull run, the more investors need to speculate on emerging technologies to find valuations that are "priced to grow." With our real-time news analytic system, News Quantified users are poised to continue posting astounding profits on this recent trend.
Diverse Plays, Great Profits: All in a single news day.
Keep checking our blog for daily updates on lucrative new-based stock plays, analyst actions, and more!
We analyze news events ranging from clinical trials in the pharmaceutical industry to routine earnings releases to major geopolitical shakeups.
Or, if you're ready to move beyond the blog and experience the power of hedge-fund caliber news analysis in a package that's accessible to small investors, click here to sign up for a free training today. You'll see how easy to use our platform really is—and how many profitable trades it can unlock
A powerful news analytics platform like News Quantified not only makes it easy to track the news, but to quickly compare news events with key financial information. We make it simple to find strong, diverse plays in any market environment.
How are you using the news to earn market-beating profits? How would you use the news if you had access to a real-time platform like News Quantified?  Let us know in the comments below.