Weekly Stock Market Recap + Friday: Home Goods Retailer Surges
Weekly Stock Market Recap
It's been another wild week for the stock market, with stocks falling dramatically during yeterday's trading on tariff fears. Stocks were negative out of the gate this morning but appeared to be gaining some positive traction at the time of this writing. From interest rate fears to trade conflict to a Q1 growth slowdown, the market is facing a series of important geopolitical test winds.
Despite sharp losses across major indexes, the diverse plays enabled by a real-time news analytics approach continue to post dependable profits even as volatility surges. The trades below are just a few of thousands that were available to our users this (and every) week. You can learn about news-based, quantitative stock training in our (totally free, including a tour of our platform) weekly training seminars:
On Monday, we looked at a Chinese efficient energy firm that surged on news of winning new contracts.
Tuesday, we examined a Top Short play: a Texas oil infrastructure firm facing dire financial straits.
Wednesday, we took a look at a stock posting big gains on its plan for a new "cloud seeding" aircraft for fire-fighting.
Yesterday, even as markets plummeted, we found outstanding gains from clothing retailer Land's End, posting an impressive financial statement after recent struggles.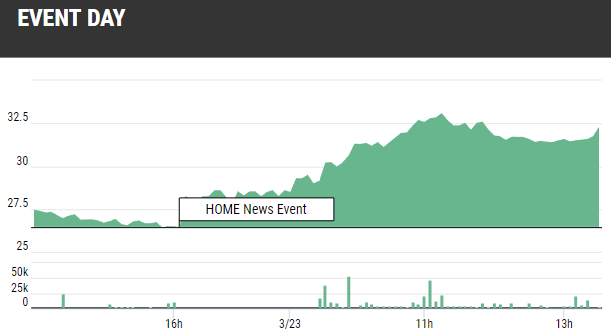 At Home Group, headquartered in Texas, operates a home décor "superstore" with locations in 34 US states. Their stock shot up today after they posted strong earnings for 2017Q4.
Investors continue to react strongly to recent results in the retail sector. As physical retailers come under increasing pressure from online sellers, traders are eager to discover which firms can thrive in a more digitally oriented marketplace. Retailers that are thriving despite stiff price competition remain highly attractive to investors.
Net sales for HOME were up over 20% for the quarter, with new stores driving much of the increase. Same-store receipts jumped 6%. Profits were up over 30%, as store growth reaches increasing economies of scale.
The numbers were enough to attract a buying spree, driving the stock up over 20% at the time of this writing.
Keep checking our blog as we look to make sense of this whirlwind market environment. News-based strategies continue to thrive through the volatility. In addition to lucrative short plays, news events can drive positive momentum that easily trumps background movement in the broader market. Even when markets are quiet, we find the stocks with loud profits.