Weekly Stock Market Recap + Enterprise Blockchain Platform Continues Surging
Stock Market Week in Review

:

Volatility continued to dominate the market this week, though the bulls won out after an intense week of trading. Prospects of a protectionist surge spooked markets earlier in the week, but the rally has been strong as the Trump Administration retreats from its promised "across the board" tariffs, promising to carve out numerous exemptions.

Meanwhile, today's US jobs report provided ample fuel for bullish traders: the economy added jobs at a rapid pace, while wage growth slowed from last month. Growth without an increase in the price of labor is the ultimate combination for firm profitability, and stocks are up sharply this week.

Today, we review some of the Top Performers from the week, plus a bonus play from this Friday's trading. Remember, these are just a few of the 1000's of profitable stock plays available to our members each week. You can get started with some (totally free) strategy tips for news-based investing and see how our platform makes this approach simple in our weekly informational seminars:
Weekly Top Performer Recap:
On Monday, we took a look at a commercial insurance company that gained big on plans to be bought out. Many analysts expect tax cuts to fuel a cash rich environment with a growing pace of acquisitions.
On Tuesday, news of a technological breakthrough on solar-powered hydrogen production sent this energy tech stock soaring. This unique renewable play offers exposure to the potential of both solar power and more practical hydrogen infrastructure.
On Wednesday, a human capital management firm jumped out to nice gains after announcing plans to utilize a blockchain approach for secure data management. Blockchain stocks have cooled a bit from "white hot" territory, but continue to generate investor enthusiasm for potential enterprise-focused use cases.
On Thursday, a popular Italian restaurant stock jumped after news of a planned sale to private equity.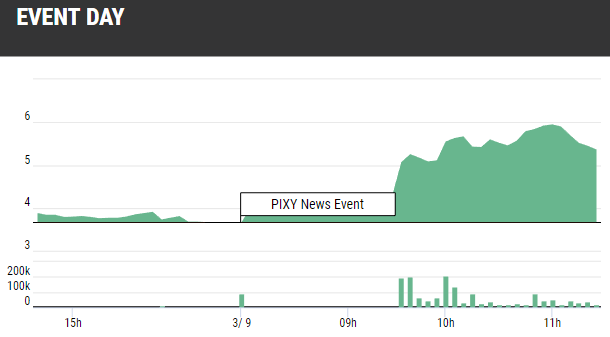 We only double up on our daily "Top Performers" if they're putting on a truly impressive show. Which is precisely what ShiftPixy (our Top Performer from Wednesday) is doing.
This morning, ShiftyPixy announced further details on its "human capital blockchain" platform. The stock shot up again, as much as 65%, before settling at its current price point, up about 45%. Even users who didn't pick up PIXY during Wednesday's trading are registering nice profits. But those users who bought the Wednesday news event with, say, a 5-day hold time, are now up over 75%.