Weekly Stock Market Recap + Bonus Friday Top Performer
It's been another wild week for equity markets as investors struggle to make sense of how increased trade sparring between the US and China will affect the global macroeconomy. Early in the week, investors appeared optimistic that trade conflict was more rhetorical than real—only a prelude to negotiations. That sentiment has faded throughout the week, with China issuing a response to US trade restrictions, triggering another round of retaliation from the US government.
Volatility continues to be the rule. Bulls have posted multiple rallies throughout the week, only to see them disintegrate in the face of stiff economic headwinds. Today, stocks are falling steeply, with the Dow flirting with 600-point losses at the time of this writing. A US jobs report that came in well below expectations is compounding the worries over trade. Though an economic slowdown would alleviate fears of interest rate pressure, it might threaten the earnings growth needed to sustain current valuations.
This market environment is incredibly chaotic, yet still highly profitable for investors employing news-based trading strategies. Hedge Funds have been using these strategies for decades. Now, technology makes it possible to trade on news events without an entire department of interns monitoring financial news. You can learn how quantitative analytics synergize with news-event data to drive profits well in excess of market averages in one of our (totally free) weekly training sessions. Sign up using the button below:
Weekly Top Performers
On Monday, we took a look at a biotech firm surging on positive clinical trial results for a potential cancer treatment. (NYSE:SLS)
Tuesday, we changed gears to profit on a mental health analytics startup posting huge gains after successfully placing several million in preferred stock shares. (NASDAQ: MYND)
Wednesday, a hemp products stock caught our eye. It's gaining nicely on plans to expand to take advantage of recreational cannabis legalization in California. (AMEX:GRCU)
Thursday, we took a look at a waste-energy stock. This company surged on news that its tech would be used by a Duke University research project trying to bring sanitary sewage to developing areas with inadequate infrastructure. (AMEX:PWVI)
Friday Bonus Stock Play: Monex Group (AMEX:MNXBY)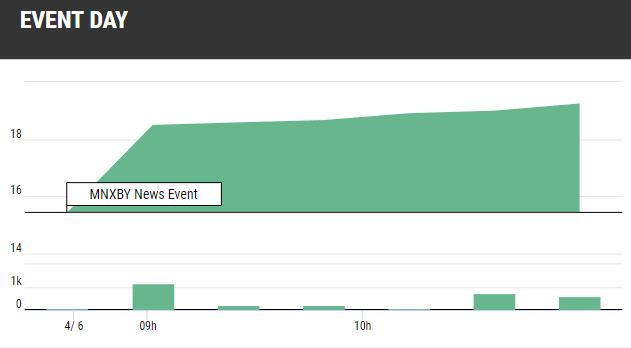 Monex Group is a Japanese stock brokerage firm. After the close of trading yesterday, they announced plans to buy a beleaguered blockchain firm, Coincheck. Coincheck was recently hit by a high-profile hack. Monex paid around $34 million for the acquisition.
MNXBY is up around 30% at the time of this writing. Remember, you don't have to be a blockchain believer to profit on the sharp swings in momentum generated by news in this trendy sector. Just last week, we made money shorting a major blockchain firm on news of an impending fraud investigation.