Wednesday Stock Market News and Notes: Macro-Movers; Pharma Stock Up 75%+
Markets are continuing their bullish run for the week during today's trading, with all major indexes solidly into positive territory. Major movers among big-name stocks today include Boeing (NYSE:BA), currently up 2.4%. Major financial stocks like J.P. Morgan (NYSE:JPM), Bank of America (NYSE:BAC), and Goldman Sachs (NYSE:GS) are also pushing markedly upward, leading the day's rally.
These stocks share a common feature: they're all commonly traded as proxies for macroeconomic trends. Boeing is dependent on both exports and a complex international supply chain, and often trades in line with investor anxiety regarding protectionism. Financials, meanwhile, often trade as proxies for economy-wide interest rates: as rates increase, so does the overall cost of credit—which gives lenders a chance to extract more yield from loans.
While protectionist salvos between the United States, Mexico, Canada, and the EU continued this week, aircraft appear to be being spared by US trade partners for the moment (retaliatory measures so far have largely been focused on US agricultural goods). Meanwhile, interest rates are pushing their way back up as acute fears over Italian politics recede and data continues to suggest that the US economy is in a "Goldilocks zone" of sustained growth and modest inflation.
Alphabet (NASDAQ:GOOGL) is down during the day's trading, hit by news that the European Union plans $12 billion in anti-trust penalties for the tech giant. Aside from GOOGL's struggles today, tech stocks have been surging in recent weeks, affected by novel strategic concerns:
"It's interesting because, over the past few years, you've seen tech perform as a defensive sector," – Quincy Krosby, chief market strategist, Prudential Financial, as quoted by CNBC.
First off, signs of a relative global slowdown (even as the US economy churns forward) is pushing capital toward the tech sector, which still appears able to generate earnings growth in the current environment. Second, many investors perceive tech stocks as less sensitive to trade conflict than, for instance, industrials. Aside from IP sparring with China, most tariffs issues so far have focused on industrial, agricultural, or luxury goods, sparing technology firms.
Today's Top Performer: Axovant Sciences (NYSE:AXON)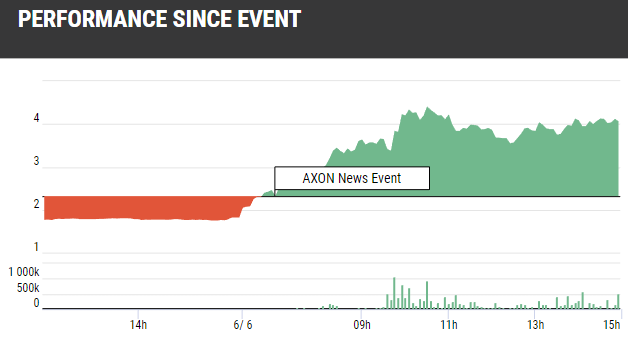 Axovant is a clinical-stage biopharmaceutical company focused on developing treatments for patients with serious neurologic/psychiatric conditions. AXON develops and commercializes a pipeline of product candidates designed to target unmet needs in neurology and psychiatry.
Their stock jumped dramatically today on news that they have entered a distribution agreement with Oxford BioMedica, a leading gene and cell therapy research group.  The agreement centers on AXON licensing exclusive worldwide rights to develop and commercialize OXB-102, developed by Oxford BioMedica. The treatment is an investigational-stage gene therapy for Parkinson's disease. It works on three genes, encoding a vital set of enzymes needed for dopamine synthesis in the brain.
AXON acquired the distribution rights for $30 million in cash. The agreement provides for an additional $812 million in development milestone payments. Oxford BioMedica will also receive royalty payments on sales if the treatment is successfully commercialized.
Investors have been buying up the stock on heavy volume since the announcement: AXON is sitting up over 75% at the time of this writing. Today's gains mark a welcome change of pace of AXON, which has fallen precipitously from highs over $25.00 per share, achieved as recently as September 2017.
Pharmaceutical stocks are only one of many profitable categories of news alerts issued through the News Quantified platform every trading day. To learn more about using the news, real-time data, and proven strategies to find market-beating returns, we recommend one of our totally free training sessions. There's still some space in our next session, you can sign up using the button below: