Video Security Stock Surges on Park Ave Contract
Daily Stock Market Primer: Major indexes are falling for the second day in a row, with the Dow leading the way down. Boeing (NYSE:BA), a proxy for trade fears of late, was leading the way down: China has been indicating it will not simply grant major trade concessions to the United States in this week's negotiations.
This earnings season has been an unmitigated success, but the market is having trouble generating and sustaining major rallies. Even as profits appear sound, macroeconomic data is beginning to indicate rising prices and slowing real production. These dynamics—sound cashflows with an uncertain future—are leading to sustained volatility in equities markets.
Research suggests that news-based trading approaches actually experience higher average returns in a volatile environment. You can find out why, get a free virtual tour of our quantitative trading platform, and receive some foundational tips for news-based trading in one of our totally free training seminars. Just use the button below to claim a place.
Today's Top Performer: DirectView Holdings (AMEX:DIRV)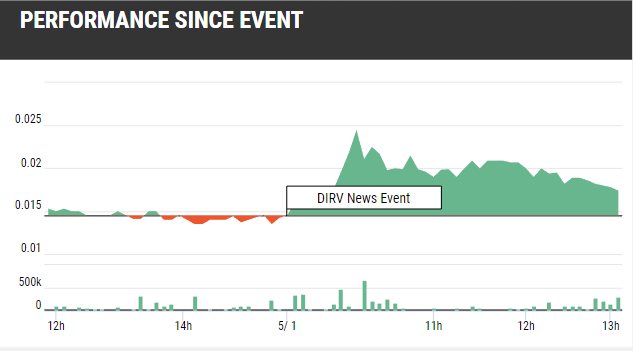 DIRV focuses on enterprise video solutions in two distinct markets: teleconferencing and surveillance. Surveillance offerings include both onsite and remote video/audio monitoring, in addition to installation and maintenance services.
The stock has been struggling in recent years: it briefly touched prices as high as $100/share in 2015. After a steep years-long decline, it's been trading in the sub $.10 range in recent months.
Today, however, they announced a major contract to implement a comprehensive security upgrade at two major Park Avenue, Manhattan office towers. Both buildings feature prestigious tenants including "two of the biggest names on the Web." DirectView won the original security contract for the buildings. As security concerns heighten, they're now being called in to install enhanced capabilities. DIRV believes its market is due to heat up as the generation of building security systems installed in the immediate aftermath of 9/11 nears obsolescence.
Investors are buying the stock on heavy volume after the announcement: DIRV shot up as much as 80% before consolidating at its current price point, up about 20%. DIRV is an extremely small market cap stock, and its news can still easily generate sufficient price momentum to generate big gains even as the broader market sags.
Keep checking in the with the News Quantified blog as we take a look at an illustrative sample of the 1000's of profitable news alerts available to our members each and every week.