Urgent Demand for Glaucoma Drugs Leads to Big Profits: Top Performer
Yesterday, stocks fell off the upward momentum that had defined January so far, with most indexes trending down.
Today, the sagging momentum decelerated to a full-scale correction—the largest two-day drop we've seen in months. Energy stocks led the way down, as crude oil continues to appear resistant to price increases even as demand ramps up. Apple's stock also took a big hit after rumors of a coming decrease in iPhone production.
All major indexes were down at least .8% at the time of this writing. A falling dollar and rising US Treasury rates continue to spark fears of a return to inflationary pressures.
Despite the bearish sentiment to the day's session, today's Top Performer is a long play. Like many pharmaceutical stocks in recent days, its growth potential managed to pierce broader concerns about market valuation.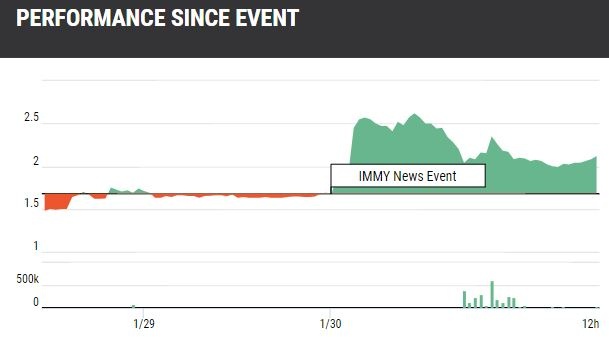 Imprimis is a pharmaceutical development and manufacturing company focused on ophthalmology treatments. This morning, they announced that they will begin dispensing preservative-free versions of two widely used treatments for the eye condition glaucoma.
Recent research has suggested that preservatives used in glaucoma medications may have been triggering an array of harmful side effects, rendering them dangerous for patients with a wide variety of conditions.
This insight has driven demand for preservative-free formulations, which have been added to the FDA's drug shortage list as manufacturers struggled to keep pace with demand. IMMY will be stepping in to help fill that gap.
Investors piled into the stock on the news, driving it gains as high as 60% before consolidating at its current price, up around 25%.
Diverse Plays, Great Profits: All in a single news day.
Keep checking our Top Performer blog each trading day: we analyze a wide variety of news events to find profitable stock trades for many different trading strategies. Or, if you'd prefer these updates delivered to your inbox, sign up for our free "Movers and Shakers" newsletter here.
Our blog homepage will help you get a sense for just how many smart strategies a real-time news analytics platform can unlock. From short selling to momentum trading, from geopolitics to blockchain, News Quantified provides a powerful tool for leveraging the strategy you've selected with the sort of data typically only accessible to big institutional investors. Regular readers of our blog know that there's virtually no limit to the number of news events that News Quantified can translate into real stock trading profits.
If you're ready to move beyond the blog and learn more about our platform, click here to sign up for a free training seminar today. We'll show you around the platform and suggest some strategies that many of our users are taking advantage of to find consistent news-based trading profits.