Top Performer Doubles in Hours: 1/12 Report
Markets have so far emerged from yesterday's lull with a renewed since of confidence. Every major index is up so far in the day's trading, with the Dow Jones leading the way.
This follows an overnight international session that showed strong growth across many national indexes. Continuing confidence in macroeconomic indicators appears to be fueling the run up.
Today's Top Performer involves an acquisition. Typically, acquisition plays appear in our Top Performer Reports when a larger company buys a smaller company's stock at a premium that's very profitable to News Quantified users. But today is a bit different—this company doubled on news of who it plans to acquire.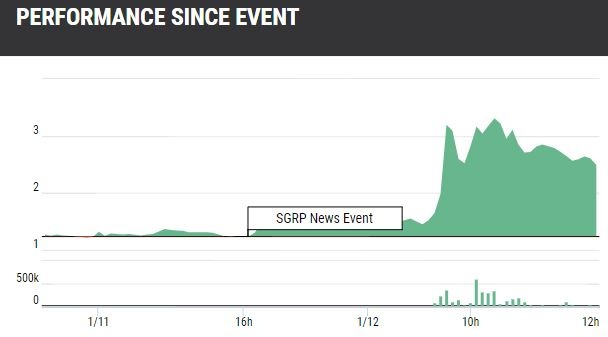 Spar Group is a leading international provider of retail merchandising technology and associated marketing offerings. Based in New York, SGRP has a large market share in Africa and South America; they are seeking to expand their domestic footprint.
To that end, this morning, they announced plans to acquire a controlling 51% interest in a collection of related Florida Companies: Resource Plus Inc., Mobex, and Leasex. All three entities (collectively "Resource Plus") operate in the marketing-fixture installation space, the same as SGRP. For its part, Resource Plus is hoping that SGRP's advanced online retailing system will enable newfound operational intelligence.
Investors piled into SPAR on heavy volume, driving the stock to gains over 100% at the time of this writing. These gains astonishing for acquisition news and had shot out even higher (just above 200%) before pulling back to their current level.
Diverse Plays, Great Profits: All in a single news day.
Keep checking our blog for daily updates on lucrative new-based stock plays, analyst actions, and more!
We analyze news events ranging from clinical trials in the pharmaceutical industry to routine earnings releases to major geopolitical shakeups.
Or, if you're ready to move beyond the blog and experience the power of hedge-fund caliber news analysis in a package that's accessible to small investors, click here to sign up for a free training today. You'll see how easy to use our platform really is—and how many profitable trades it can unlock
A powerful news analytics platform like News Quantified not only makes it easy to track the news, but to quickly compare news events with key financial information. We make it simple to find strong, diverse plays in any market environment.
How are you using the news to earn market-beating profits? How would you use the news if you had access to a real-time platform like News Quantified?  Let us know in the comments below.