This Pharma Stock is Up 150% As Markets Battle Trade Woes
Daily Stock Market Summary: Stocks are falling broadly today after the Trump Administration's announcement of steel/aluminum tariffs on the EU, Canada, and Mexico. The tariffs were originally announced months ago but then waived via exemption to facilitate negotiations (which now appear to have stalled). The EU and Mexico both condemned the tariffs and issued retaliatory measures on US goods. American metal industry stocks are moving up in response to the news. US Steel (NSYE:X), for instance, is up just under 3%. The Dow, featuring many large industrial stocks perceived as more sensitive to trade conflict, is leading the NASDAQ down by a wide margin.
Even if eventually resolved, these brewing trade conflicts appear likely to continue injecting volatility into global markets. As we've soon on this blog in recent weeks, volatile markets actually represent an ideal hunting ground for news-based stock strategies. Why? More volatile trading helps separate the price-momentum of stocks being affected by news events from broader market drift.
Today's Top Performer is a great example. If you'd like to learn how the News Quantified platform makes it simple to find highly profitable news events each and every trading day, we recommend one of our totally free virtual learning sessions. There's still space in our next session:
Today's Top Performer: Madrigal Pharmaceuticals (NASDAQ:MDGL)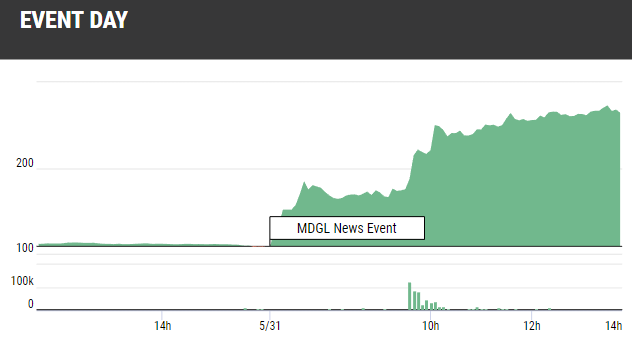 Madrigal Pharmaceuticals is a clinical-stage development firm. They specialize in developing liver treatments utilizing a specific thyroid hormone receptor pathway related to cardio-metabolic and fatty-liver diseases.
Their stock jumped dramatically today after the announcement of promising results from a Stage 2 Clinical trial for a flagship treatment for MDGL (targeting biopsy-proven non-alcoholic steatohepatitis, or NASH). There is no current FDA-approved treatment for NASH, and MDGL's approach could command substantial market share if successful. For now, the treatment will proceed to Phase 3 Clinical trials for further study.
Investors have been buying up Madrigal aggressively since the news broke, with the stock trading up nearly 150% at the time of this writing. MDGL's current price point easily marks an all-time high for the stock, which had already posted impressive gains for 2018 prior to today's news event.
Pharma stocks have proved to be a consistent source for strong same-day gains for News Quantified users in recent weeks. A single announcement (like today's) can radically change the fair value of a given stock in this unique sector. And news-based traders can capture some of this highly profitable momentum without exposing themselves to buy-and-hold risk from this high-risk, high-reward segment of the marketplace.
Keep checking the News Quantified blog for a powerful sample of the 1000's of profitable news alerts available to our members every week.