Stock Market Weekly Roundup – Trade Hamstrings Dow While Tech Soars
It's been a highly bifurcated week for equities markets. Overall trading this week has been dominated by increased fear of trade conflict, with the Trump Administration again threating Chinese tariffs weeks after claiming a diplomatic breakthrough. The EU and China continue to identify and issue retaliatory measures.
These fears lead to a brutal week for the Dow Jones index, which contains many heavy industrial stocks perceived as sensitive to international trade conditions. The Dow had posted losses for 8-straight days coming to today's trading, where it's up sharply so far. If it manages to end today in positive territory, it will be just be avoiding its longest losing streak in over 40 years.
Investors who focused on tech stocks, meanwhile, had a very different experience this week. Many of the high profile tech stocks that make up the NASDAQ are sitting near all-time highs.
This week on the News Quantified Blog, we examined some fundamental information that can help smaller investors do their best in the stock market: choosing between stockbrokers, options for trading using an IRA, different types of stock "order," and understanding the opening and closing auctions.
Below, we discuss two of the most profitable news alerts issued by our platform this week. If you'd like to learn more about how our platform synthesizes news-data with real-time stock price analytics to find market-beating profits, we highly recommend one of our totally free training sessions. Just claim a spot using the button below: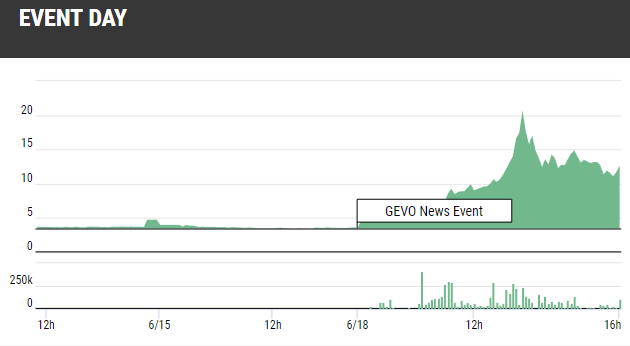 GEVO focuses on developing renewable technologies based on next-generation biofuels. Their current efforts are largely centered on a proprietary "combination of synthetic biology, metabolic engineering, chemistry and chemical engineering to focus primarily on the production of isobutanol."
Monday, the EPA approved isobutanol for use in on-road automobiles as part of up to a 16% mix with gasoline. It had previously only been approved for a 12.5% mixture. GEVO continues to search for target markets for the newly approved mixture, such as the group of US consumers skeptical of fuel containing ethanol, another common biofuel mix in the US.
Investors have been piling into the stock since the announcement Monday morning. The stock is currently up almost 130% since our initial news alert—this number actually represents a dramatic pullback, however, after GEVO jumped as much 498% (not a typo) in the wake of the initial announcement.
Bonus Top Performer: Astrotech (NASDAQ:ASTC)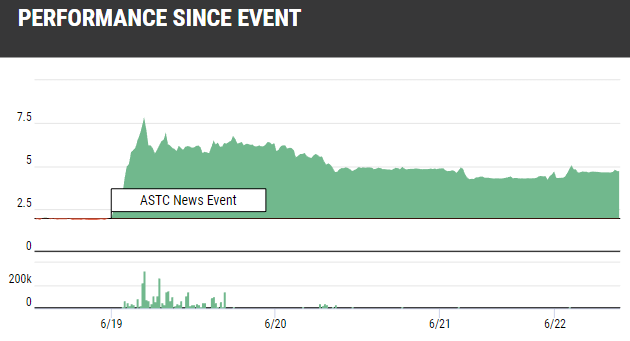 We actually featured Astrotech back in December after their stock jumped 60% following news that their subsidiary had successfully demonstrated a novel explosive-scanning technology for the U.S. Department of Homeland Security.
They're at it again this week, with ASTC up over 140% at the time of this writing. The gains come on news, released Tuesday that the EU is now evaluating the same tech.
Astrotech is a technology commercialization company that acquires and nurtures a portfolio of development stage technologies for eventual commercialization. Their subsidiary, 1stDetect, uses research from the Oak Ridge National Laboratory to develop chemical scanning technologies for a variety of government and commercial applications.
Their novel approach to explosives scanning, custom-developed for the TSA, uses a mass-spectrometry approach to detect explosives. These new scanners, called the the TRACER 1000, are projected to be substantially more effective than the current generation, which utilizes an Ion Mobility spectrometry approach.
The TRACER 1000's are expected to be able to detect a greater variety of prohibited substances, have a far lower false positive rate, and feature roughly analogous costs.