Stock Market Week in Review + Friday's Top Performer
Stock Market Week in Review: Markets are gaining today after a red-hot US jobs report provided a jolt of confidence for the stock market. With growth strong and 10-Year Treasury rates back below 3%, the economy is in a sweet spot for the moment.
It's certainly been profitable territory for News Quantified users (we review our Top Performers for the week below). If you'd like to learn more about how news-based trading backed by real-time data beats the market (a combination hedge funds have been using to earn market-beating gains for decades) we recommend one of our totally free training sessions. Just claim your spot using the button below:
Weekly Top Performers Recap
On Tuesday, we looked at an energy services stock posting nice gains after winning a contract to help restore power in Puerto Rico. (NASDAQ:TUSK)
Wednesday, we found nice profits on a US sporting goods retailer that easily bested quarterly earnings expectations. (NYSE:DKS)
Thursday, we examined a pharmaceutical stock that jumped 140% on promising trial results for an innovative liver disease treatment. (NASDAQ:MDGL)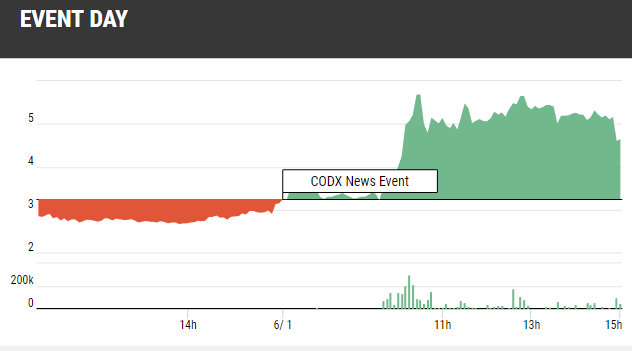 Co-Diagnostics markets its proprietary platform for "molecular diagnostics," called CoPrimer. Today, CODX announced that their tech is being utilized as part of a broader research effort based at Stanford. The goal is to develop more efficient methods for the detection of multiple genetic mutations in the EGFR (epidermal growth factor receptor) gene. This gene is, among other conditions, closely associated with lung cancer.
Investors have been buying up the stock on heavy volume since the announcement, leaving it up just over 40% at the time of this writing. The gains mark a return to price levels not seen since December, 2017 for the stock.
Keep checking our blog for a small but powerful sample of the 1000's of profitable news events analyzed by our platform every week.