Stock Emerges from Restructuring to Post Big Gains
Stocks jumped out to a solid start Friday after a strong jobs report suggested a US economy still clearly on a growth trend.
US labor markets continue to create new jobs, but offer little actual wage growth—this fact may have spurred markets on today: muted wage growth will encourage the Federal Reserve to keep a moderate pace of rate hikes in the coming months.
Today's Top Performer is a long-suffering stock that had fallen below $.01 on the markets for a long period of time. The stock is up big today, however, as investors bet on a successful turnaround.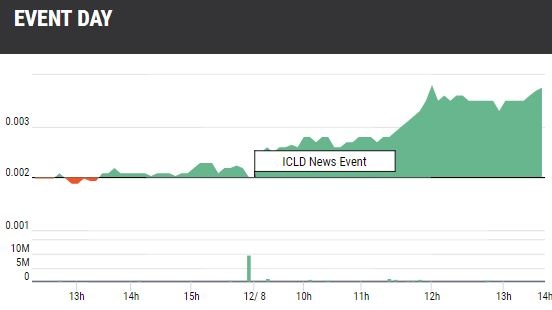 Intercloud Systems provides cloud-based automation solutions to private enterprises. Their company has been bogged down in a class action lawsuit for years, draining vital operational liquidity and bringing this stock's price to its knees.
This morning, ICLD's CEO released a shareholder letter updating investors; the letter stated that, as of December 5, the class action lawsuit and its associated legal entanglements have finally been settled and put in the past.
ICLD is finally free to focus capital on innovative new cloud products while working to further strengthen their balance sheet (the company built up a substantial debt load in recent years). They managed to emerge from the year's long restructuring process without invoking bankruptcy protection.
Investors bought the stock on heavy volume after the update, driving the stock up 80% at the time of this writing.
Another angle seems to fuel the acceleration here: as part of their restructuring efforts, ICLD had been offering debt-to-equity exchanges as part of its restructuring efforts. Many debtholders immediately liquidated their stock upon receipt, driving massive dilution. This process is winding down, however, and ICLD even hopes to execute a reverse split.
Diverse Plays, Great Profits: All in a single news day.
Keep checking our blog for daily updates on lucrative new-based stock plays, analyst actions, and more!
We analyze news events ranging from clinical trials in the pharmaceutical industry to routine earnings releases to major geopolitical shakeups.
Or, if you're ready to move beyond the blog and experience the power of hedge-fund caliber news analysis in a package that's accessible to small investors, click here to sign up for a free training today. You'll see how easy to use our platform really is—and how many profitable trades it can unlock
A powerful news analytics platform like News Quantified not only makes it easy to track the news, but to quickly compare news events with key financial information. We make it simple to find strong, diverse plays in any market environment.
How are you using the news to earn market-beating profits? How would you use the news if you had access to a real-time platform like News Quantified?  Let us know in the comments below.