Sound Finances and Big Profits in Chinese Agriculture: 12/28
The muted trading activity following the Christmas holiday continued into this Thursday's session, with major indexes up but close to flat at the time of this writing. Investors don't seem to be in a hurry to take profits and cash out their portfolios, even after a year of record gains in equity markets.
On the other side of the coin, investors also seem keenly aware of how high overall market valuations have become. The inexorable bull rush that's characterized the last year of trading seems to have subsided, at least for the moment.
Our Top Performer today is a long play that managed to pierce the lazy post-holiday trading for some dramatic same-day gains.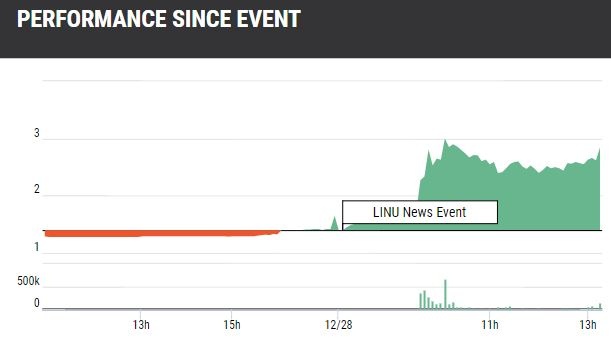 LiNiu Technology group reported their financials for the first half of 2017 this morning. While the Macau-based company continues to lose money, it lost only $8.1 million in the first half of 2017 compared to $97.3 million in the first half of 2016.
Investors bought heavily on the news that LiNiu, still developing its main product, looks to have stabilized its cash flow situation. They spent the year building awareness for their new LiNiu Network, a B2C/C2C electronic market designed specifically for the Chinese agriculture industry. Current cash flows emanate from LINU's secondary business line in promoting professional electronic gaming in the Macau casino market.
In this highly valued market, investors are searching harder than ever for stocks that still have some serious growth potential baked into their price. Bitcoin, pharma, and unproven tech platforms like LiNiu are dominating our Top Performer reports in recent days.
For these high risk, high reward stocks, picking firms with a solid financial foundation is essential. Capital bleed can kill any company before its market matures.
Real-time news updates allowed News Quantified users to buy LINU the moment its financial results demonstrated the foundation it needs to mitigate risk as it seeks to deliver on a tech that could make its investors even more money. The stock was up 100% at the time of this writing. 
Diverse Plays, Great Profits: All in a single news day.
Keep checking our blog for daily updates on lucrative new-based stock plays, analyst actions, and more!
We analyze news events ranging from clinical trials in the pharmaceutical industry to routine earnings releases to major geopolitical shakeups.
Or, if you're ready to move beyond the blog and experience the power of hedge-fund caliber news analysis in a package that's accessible to small investors, click here to sign up for a free training today. You'll see how easy to use our platform really is—and how many profitable trades it can unlock
A powerful news analytics platform like News Quantified not only makes it easy to track the news, but to quickly compare news events with key financial information. We make it simple to find strong, diverse plays in any market environment.
How are you using the news to earn market-beating profits? How would you use the news if you had access to a real-time platform like News Quantified?  Let us know in the comments below.