Short Report: Profiting on a Lagging Energy Market
After stalling this morning as yesterday's profit taking continued, the market appears to have regained steam at the time of this writing. Strong performance in the tech sector is offsetting weaker performances among banking stocks.
Today, we focus on two short plays that earned our users handy profits as the broader market inched upward. Often, overall market gains led by mega cap stocks can cloud broader losses among smaller companies. Days with modest gains on major indexes are great times to pick off earnings laggards, for instance.
Both of these Top Short plays take advantage of continuing weakness in the energy market.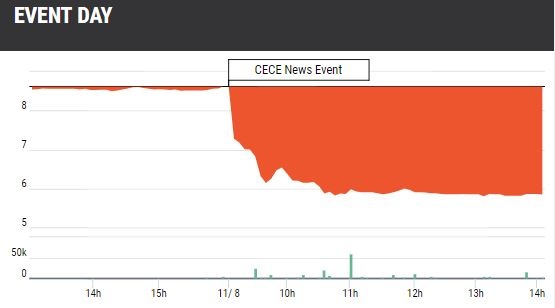 CECE is an international air quality and fluid handling firm focused on the energy and industrial markets. Today, they announced earnings results for Q3. Operating income has plunged year over year, with the CEO noting "continuing challenges." With lagging overall demand in the energy sector, CECE doesn't necessarily have a clear play available to improve its market position.
Ceco has announced plans to restructure and cut costs as it seeks to weather a period of sustained dampened demand in energy. Investors, however, didn't appear convinced. They sold the stock to the tune of 30% losses in short order.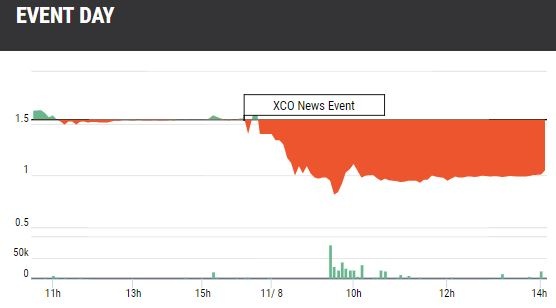 XCO announced disappointing earnings news today: the company continues to operate at a net loss. They are bleeding capital even as they run dry on their main credit lines. With natural gas prices down and costs up, the future doesn't look bright for  Exco.
Exco Resources is considering its best options to strengthen its balance sheet and maximize shareholder value as much as possible. They are now explicitly listing Chapter 11 Bankruptcy restructuring as one of these options. Unfortunately, the financial advisors hired to execute this pivot are, for now, only adding to XCO' capital bleed.
Investors were not enthused, selling off the stock to losses over 30% at the time of this writing, on heavy volume.
Diverse Plays, Great Profits: All in a single news day.
Keep checking our blog for daily updates on lucrative new-based stock plays, analyst actions, and more!
We analyze news events ranging from clinical trials in the pharmaceutical industry to routine earnings releases to major geopolitical shakeups.
Or, if you're ready to move beyond the blog and experience the power of hedge-fund caliber news analysis in a package that's accessible to small investors, click here to sign up for a free training today. You'll see how easy to use our platform really is—and how many profitable trades it can unlock
A powerful news analytics platform like News Quantified not only makes it easy to track the news, but to quickly compare news events with key financial information. We make it simple to find strong, diverse plays in any market environment.
How are you using the news to earn market-beating profits? How would you use the news if you had access to a real-time platform like News Quantified?  Let us know in the comments below.