Profiting on a Necessary Bankruptcy: 12/12 Top Performer
Markets have posted a solid performance so far today, with most major indexes up at the time of this writing. The gains are broad-based, with most sectors up despite a US price index report that appears to pave the way for continued rate hikes by the US Federal Reserve.
Today's Top Performer posted excellent same day gains after announcing progress toward a restructuring plan involving voluntary bankruptcy. As an investor, it's easy to become myopically focused on directly positive events: new products, new patents, and big acquisitions. Indeed, these sorts of events dominate our Top Performer reports
But today's Top Performer stands as a great reminder that outstanding profits can be extracted from all kinds of market news. Bankruptcy carries a negative cloud in some investors minds, but sound restructuring can help sound businesses escape poor financial planning from the past—and survive to continue delivering investor value.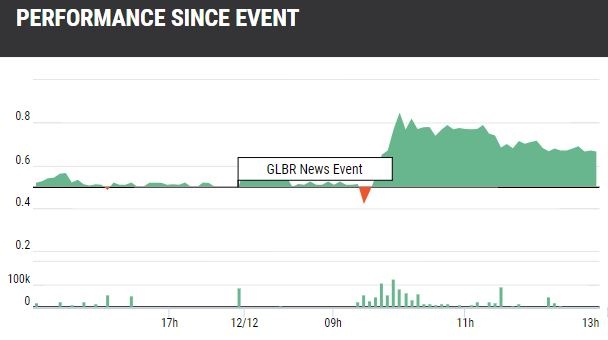 This morning, Global Brokerage's equity holders voted to approve a restructuring plan, which was also unanimously approved by the firms' creditors. GLBR is an ad hoc global investment fund which owns the majority outstanding shares of FXCM group, a leading FOREX brokerage firm. The bankruptcy of GLBR, effectively a holding company parent of FXCM, is not expected to affect the subsidiary firm's operations or liquidity.
Under this plan, GLBR will receive an extended maturity term for a large portion of its debt upon successful execution of the restructuring. As part of the agreement, GLBR will file for bankruptcy on December 20.
GLBR's stock price has been in long-term decline under substantial scrutiny from US securities regulators. FXCM has been accused of defrauding retail FOREX customers, and was banned as a US forex broker (they continue to operate in some other nations) earlier this year.
So, how are News Quantified users profiting on all this negative news? Simple: even downtrodden assets still have some value, even if they're spun off at fire sale prices. Sometimes, markets underprice a firm's ability to recover that value through smart restructuring.
In this case, investors appear sold on the case for some recoverable value: the stock was up around 30% at the time of this writing, after pushing up as high as 70% on the day. 
Diverse Plays, Great Profits: All in a single news day.
Keep checking our blog for daily updates on lucrative new-based stock plays, analyst actions, and more!
We analyze news events ranging from clinical trials in the pharmaceutical industry to routine earnings releases to major geopolitical shakeups.
Or, if you're ready to move beyond the blog and experience the power of hedge-fund caliber news analysis in a package that's accessible to small investors, click here to sign up for a free training today. You'll see how easy to use our platform really is—and how many profitable trades it can unlock
A powerful news analytics platform like News Quantified not only makes it easy to track the news, but to quickly compare news events with key financial information. We make it simple to find strong, diverse plays in any market environment.
How are you using the news to earn market-beating profits? How would you use the news if you had access to a real-time platform like News Quantified?  Let us know in the comments below.