Profit On…Kitchen Cabinets? 12/1 2017
Stocks have had a wild ride today, gyrating on each new piece of political news. After modest gains early in the session, all major indexes are down after news of the indictment of Michael Flynn, a former top advisor to US President Donald Trump. Concurrently, US tax reform efforts hit a legislative speedbump, but the law is still widely expected to pass the Senate in the coming days.
Our Top Performer today is a long play that managed to pierce sagging market momentum and record solid gains. Our Top Performer reports often center on big mining finds, huge international acquisitions, or trendy blockchain companies.
Today's Top Gainer is a different sort of stock: a solid cabinet-maker on a nice growth run.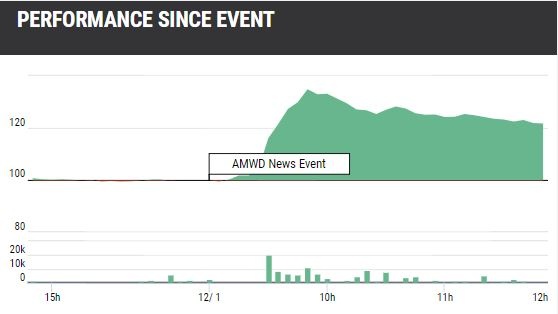 Amercian Woodmark announced their Q2 financial results this morning, alongside acquisition news. American Woodmark is a major US cabinet-maker.
AMWD posted solid financial results, maintaining their profit rate and increasing overall cash flow. Sales grew modestly, and increased cash flows are emanating from decreased customer-costs (eg. returns). That said, these financials were solid but unspectacular. Today's gains are likely driven by AMWD's growth plans.
As part of the same announcement, AMWD announced that they will be acquiring RSI home products, a major seller of kitchen and bath cabinetry. AMWD will assume a large debt-load borne by RSI as part of the purchase agreement. Investors appeared optimistic about the market power the new cabinet-titan would possess, and bought the stock on strong volume, driving it higher by as much as 30%. It had consolidated up 20% at the time of this writing.
Today's news event mars the latest bit of momentum for AMWD, which has been on a slow but steady, years-long bull run at this point. Some investors are turning to consumer-facing companies as worry increases about overvaluation among technology stocks, and other more trendy sectors.
Diverse Plays, Great Profits: All in a single news day.
Keep checking our blog for daily updates on lucrative new-based stock plays, analyst actions, and more!
We analyze news events ranging from clinical trials in the pharmaceutical industry to routine earnings releases to major geopolitical shakeups.
Or, if you're ready to move beyond the blog and experience the power of hedge-fund caliber news analysis in a package that's accessible to small investors, click here to sign up for a free training today. You'll see how easy to use our platform really is—and how many profitable trades it can unlock
A powerful news analytics platform like News Quantified not only makes it easy to track the news, but to quickly compare news events with key financial information. We make it simple to find strong, diverse plays in any market environment.
How are you using the news to earn market-beating profits? How would you use the news if you had access to a real-time platform like News Quantified?  Let us know in the comments below.