Profit on a Lending Slowdown: Friday Short Report
Downward momentum from yesterday's session continued into today. Macro news was relatively quiet, though the University of Michigan released new consumer sentiment data showing a slight downtick in confidence. Analysts believe lagging market performance may be a reaction to political wrangling over US tax reform.
Today, our Top Performer is a short play, earning News Quantified users profits far in excess of broader market losses. Financials continue to lead recent market retreats, with today's stock indicative of flagging lending revenues in the broader economy.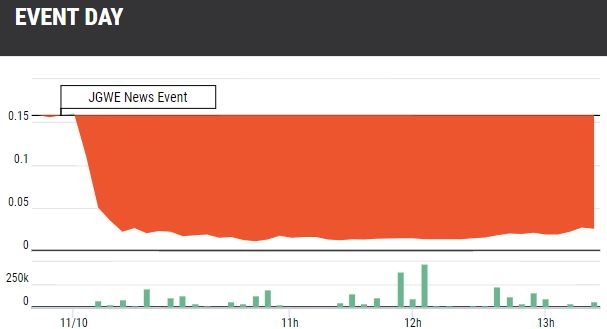 JGWE focuses on consumer-facing financial products including mortgage lending and refinancing, structured legal settlements, annuity and lottery payment financing, prepaid cards, and personal loan brokering.
The company has been struggling with their own debt burden of late. Today, they announced an agreement with creditors to substantially restructure their financial commitments and regain access to key credit facilities. Management hopes a return to liquidity will help JGWE expand into new financial product areas and begin restoring strong revenue growth. Although loan originations have continued to grow, net profits have not kept pace.
Although the restructuring process is voluntary, and management insists that day-to-day operations will not be affected, investors were not sold on the restructuring plan. They sold the stock on heavy volume on the news, driving the stock to losses over 80% at the time of this writing. The price fell as much as 94% before consolidating at its current level.
This restructuring is the second major financial reboot undertaken by JGWE in the last decade.
Diverse Plays, Great Profits: All in a single news day.
Keep checking our blog for daily updates on lucrative new-based stock plays, analyst actions, and more!
We analyze news events ranging from clinical trials in the pharmaceutical industry to routine earnings releases to major geopolitical shakeups.
Or, if you're ready to move beyond the blog and experience the power of hedge-fund caliber news analysis in a package that's accessible to small investors, click here to sign up for a free training today. You'll see how easy to use our platform really is—and how many profitable trades it can unlock
A powerful news analytics platform like News Quantified not only makes it easy to track the news, but to quickly compare news events with key financial information. We make it simple to find strong, diverse plays in any market environment.
How are you using the news to earn market-beating profits? How would you use the news if you had access to a real-time platform like News Quantified?  Let us know in the comments below.