Potential Muscular Dystrophy Treatment Fuels Stock Rise
The resurrection of volatility continues this February.
Yesterday, stocks appeared to have found some stability during Monday's trading—major indexes were up for the entire market session, a first since the recent correction began. But indexes are down uniformly on today's trading at the time of this writing. Interest-rate pressure continues to remind investors of the potential downside of equities.
While traditional investors fearfully await word from the Federal Reserve on the pace of rate hikes, News-based traders simply keep profiting. As investors become more skeptical of aggregated valuations, specific stock news becomes a bigger focus of price movement.
Every trading day on our Top Performer blog, we cover just a few of the stocks that demonstrate the potential of a platform unlocking trading strategies centered on key news events.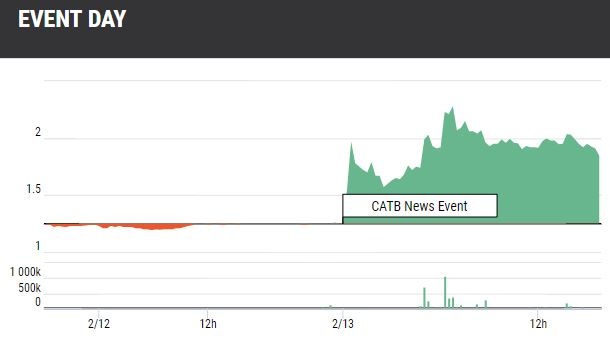 CATB is a clinical-stage biopharmaceutical company. They are currently engaged in Phase 2 trials evaluating the efficacy of edasalonexent, a potential treatment for Duchenne Muscular Dystrophy (DMD).
This morning, they announced positive initial results from the Phase 2 evaluation: "Across all key assessments of muscle function, improvements were observed in the rate of decline after 24 and 36 weeks of oral 100 mg/kg/day edasalonexent treatment." Improving levels of muscle enzymes and C-reactive protein (CRP) offered promising evidence that these observed improvements are sustainable. The results are pushing CATB to moved ahead with Stage 3 trials in the first half of 2018. "This effect has the potential to be extremely impactful for boys affected by Duchenne," argued Jill Milne, Ph.D., CEO of Catabasis.
Investors bought the stock on huge volume, driving it to gains that have consolidated near 50% after flirting with the 100% mark. The pharma sector continues to hold unmatched long-profit potential for short hold-time trades in recent months.
Diverse Plays, Great Profits: All in a single news day.
Our blog homepage will help you get a sense for just how many smart strategies a real-time news analytics platform can unlock. From short selling to day trading, from pharmaceuticals to gold-miners, News Quantified provides a powerful tool for leveraging the strategy you've selected with the sort of data typically only accessible to big institutional investors.
We conduct free training sessions every week where we take a tour of the News Quantified platform and look at potential trading strategies it can unlock.  Click the button below to sign up for an upcoming seminar today.
Ultimately, we want our platform to enable smaller investors and companies to take advantage of the real-time analytics hedge funds have been milking for decades.