Potential "Cloud Seeding" Firefighting Plane Leads Stock Upward
Daily Stock Market Summary:
Markets continue posting modest gains today as they await news from the US Federal Reserve later today. Analysts are close to certain of a 25 basis point rate hike. The real impact on markets may come as investors read tea leaves dropped by the Fed's policy language. Markets are relatively calm today, though recent calm periods have had a habit of erupting into sudden retreats and rallies.
We expect a more dramatic close to the week as traders trade toward a consensus on how tightening monetary policy will affect financial markets. Bulls point to solid earnings as proof that the market can withstand higher capital costs. Bears argue that the current market is super-heated—strong earnings are precisely what's likely to continue driving price and interest rate pressure, they claim.
News-based, quantitative stock trading approaches continue to thrive in this context. You can find out why volatility actually helps increase profits for News Quantified users in our free weekly training seminars. There's still space in our next session: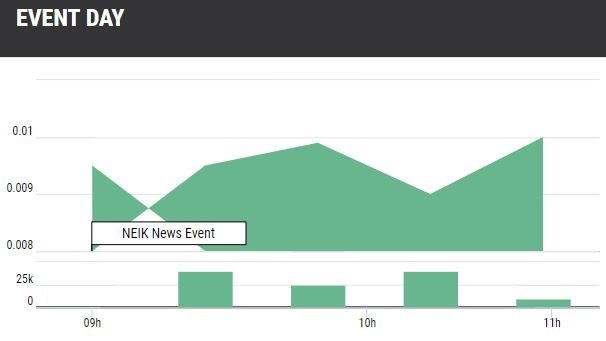 Northstar Electronics' stock jumped today after issuing a progress report on behalf of its subsidiary, Northstar Sealand Enterprises Ltd. (NSEL). NSEL is in the process of attempting to acquire the worldwide rights to production of an industrial, single-engine turboprop aircraft from a major international manufacturer.
They plan to produce the plane for growing demand in two particular market segments: Agriculture and Rapid Response Forest Fighting. Sealand is developing new features for the aircraft that they believe will allow them to create a "best-in-class" craft for these use cases. Particularly, they plan to use "cloud seeding" technology that uses far less water: an important concern in remote areas with steeply limited water supplies.
Northstar is also exploring potential military applications for the craft, including surveillance and COIN (counter-insurgency). Performance parameters of the existing, commercial variant of the plane allow it fly at extremely low altitudes, below radar coverage. Small turboprop planes can also land on extremely rugged landing strips, an essential feature for aircraft operation in remote regions.
The Northstar Electronic parent company has designed numerous aircraft subsystems for major international major manufacturers.
Investors have been buying up the stock since the announcement, driving the stock to gains well over 20% at the time of this writing.
Keep checking our blog for a small sample of the 1000's of profitable plays available to News Quantified users every week.