Nuclear Stock "Blows Up" on Patent News
Stocks are registering a mixed performance so far this Monday, with the Dow down slightly and S&P 500 up at the time of this writing. Markets appears resilient in the face of the ongoing shutdown of the United States government. Overall performance on the new year remains remarkably strong in the face of severe geopolitical headwinds, leaving many analysts whispering "melt-up."
Today's Top Performer is one of the most classic long plays enabled by a sound news analytics platform: a company shoots up after announcing a breakthrough new tech. While we track all sorts of profitable news events, from mergers to bankruptcies, nothing matches the sheer long-profit potential of new tech.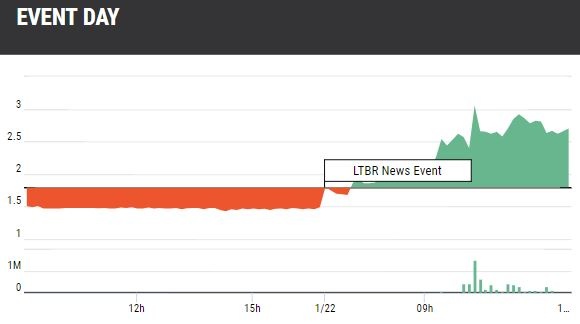 Lightbridge technology is a nuclear fuel technology company. Today, they announced a new patent from the US Patent & Trademark office, protecting their new "nuclear fuel assembly" design.
LTBR's new metallic fuel assemblies are designed for the pressurized water reactors ubiquitous in the West. For now, however, the new patent extends only to the United States. Some analysts expect this tech to be adaptable to the types of reactors utilized more commonly in, for instance, China and Russia.
The new fuel assemblies are expected to significantly improve the economics, safety conditions, and performance of compatible reactors. Lightbridge already holds a patent on the design of its base fuel rods. This patent successfully extends this protection over a broader range of LTBR's fuel technology. Employed together, LTBR's technologies allow their fuel to be operated about 1000° C less than with conventional reactor fuel designs.
LTBR already holds patents in China, South Korea, and the EU for its existing fuel rod technology. They appear positioned to be a dominant global player in the nuclear fuel market for years to come, and investors are taking note. They piled into the stock on the announcement, driving it to single-day gains over 80% at the time of this writing.
Diverse Plays, Great Profits: All in a single news day.
Keep checking our blog for daily updates on lucrative new-based stock plays, analyst actions, and more!
We analyze news events ranging from clinical trials in the pharmaceutical industry to routine earnings releases to major geopolitical shakeups.
Or, if you're ready to move beyond the blog and experience the power of hedge-fund caliber news analysis in a package that's accessible to small investors, click here to sign up for a free training today. You'll see how easy to use our platform really is—and how many profitable trades it can unlock
A powerful news analytics platform like News Quantified not only makes it easy to track the news, but to quickly compare news events with key financial information. We make it simple to find strong, diverse plays in any market environment.
How are you using the news to earn market-beating profits? How would you use the news if you had access to a real-time platform like News Quantified?  Let us know in the comments below.