New England Utility Upgraded by Top Analyst
News Quantified welcomes you back from the Christmas trading holiday. As markets begin looking to set the pace for 2017 trading, we'll continue to provide the real-time news analysis that empowers small investors to find consistent trading profits.
Today's trading, with most major indexes down at the time of this writing, seems to confirm the curious trend from last week, when markets seemed to shrug at the passage of US tax reform, even as they had cheered on each rumor regarding its impending package.
This behavior could simply represent the latest example of "buy the rumor, sell the news." Or, current valuations could represent a medium-term plateau: the tax cuts created enough optimism to prevent profit taking but couldn't force prices higher.
As investors eagerly wait to see how the 2017 market environment shapes up, a sound news-based trading strategy will prepare investors for any eventuality.
With trading news relatively slow as markets emerge from their holiday slumber, today we'll focus on a top Analyst Action.
News Quantified provides our users with constantly updated Win% ratings for major financial analyst groups. When they make a prediction on a stock, our data helps investors evaluate the predictive quality of the price target.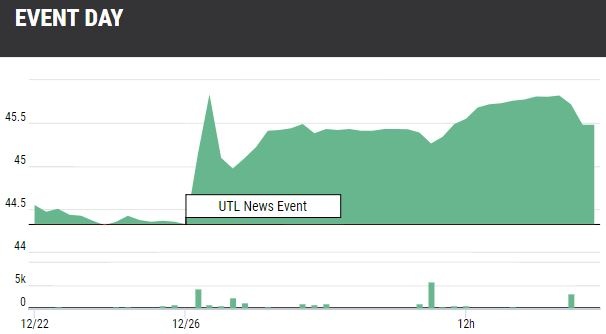 The Janney Montgomery Scott analysis group holds one of the most impressive records in the News Quantified system, recording an outstanding 71.9% Win rate. When they change their rating on a stock, News Quantified users take note.
They upgraded Unitil Corporation this morning, shifting their rating of the stock from "hold" to "buy." They have a $50 price target on the stock.
Investors bought the stock on limited volume, pushing it to gains around 2%; substantial upside may remain.
Unitil is a New England area electric and natural gas utility. Janney's rating shift was not based on a strategic shift at UTL, but rather an attractive valuation.
Diverse Plays, Great Profits: All in a single news day.
Keep checking our blog for daily updates on lucrative new-based stock plays, analyst actions, and more!
We analyze news events ranging from clinical trials in the pharmaceutical industry to routine earnings releases to major geopolitical shakeups.
Or, if you're ready to move beyond the blog and experience the power of hedge-fund caliber news analysis in a package that's accessible to small investors, click here to sign up for a free training today. You'll see how easy to use our platform really is—and how many profitable trades it can unlock
A powerful news analytics platform like News Quantified not only makes it easy to track the news, but to quickly compare news events with key financial information. We make it simple to find strong, diverse plays in any market environment.
How are you using the news to earn market-beating profits? How would you use the news if you had access to a real-time platform like News Quantified?  Let us know in the comments below.