Munching on Profits: Cannabis Food Stock Surging
Daily Stock Market Update:
The almost violent up-and-down action for major stock indexes continues during today's trading. Stocks are up sharply and still gaining at the time of this writing as fears over the conflict in Syria spiraling out of control appear to be easing, for now. Wall Street expects a big slate of earnings announcements this week, which should continue to drive volatile action in equities markets.
Heightened volatility is actually associated with larger average gains for news-based traders (as evidenced by our diverse Top Performers from last week). That's why hedge funds have been employing this approach for years: you can profit on price movement itself, without needing to predict the overall direction of the market (a task that beguiles some of the best economists in the world). You can find out how smaller traders are using News Quantified to transform their approach to trading in one of our totally free weekly training sessions. We'll discuss the fundamentals of news-based trading and demonstrate how simple executing this quantitative stock trading strategy can be—with the help of our platform. Sign up using the button below:
Today's Top Performer: NightFood, AMEX:NGTF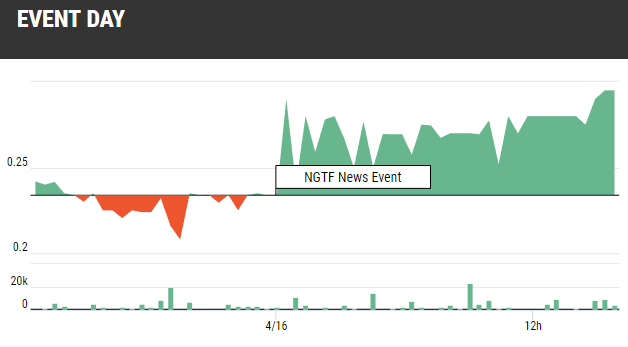 NightFood is another player in the legal cannabis space—a white-hot sector that's generating frequent Top Performers in recent months. The legalization of cannabis continues to create myriad market opportunities that investors are still working to understand.
Today, NightFood is surging after announcing that it is zeroing in on a deal to license its line of cannabis-infused snack products for manufacture and distribution. NightFood is focused on developing cannabis edibles in a variety of forms, all developed and marketed under the "Half Baked" brand.
Meanwhile, NGTF revealed that they are working with a group of food science companies and nutritionists to design a new line of edibles code-named "Project X." At this time, their team believes this project will lead to a viable (and, most importantly, patentable) product.
Investors are pouring money into the stock at the time of this writing. The stock is up over 23% on heavy volume.
Like blockchain, the legalized cannabis industry is high-risk, high-reward. It's simply difficult to tell which new companies will survive in these lucrative but highly competitive new markets. But News Quantified users don't have to take long-term positions in individual firms. Using the news, we can profit on the price action created by these white-hot sectors without exposing ourselves to buy-and-hold risk.
Keep checking the News Quantified blog for a small sample of the 1000's of profitable stock plays available to our members each and every week.