Magicjack, Magic Profits: 11/9 Top Performer
Stocks are taking a tumble so far on Thursday. Investors are disappointed with the prospects for significant US tax reform and taking profits after several weeks of mostly positive trading.
Today, we focus on a Top Performer that managed to grow amidst the broader downward momentum. Major acquisitions have been a great source of profitable trades for News Quantified users over the past week, and today is no exception.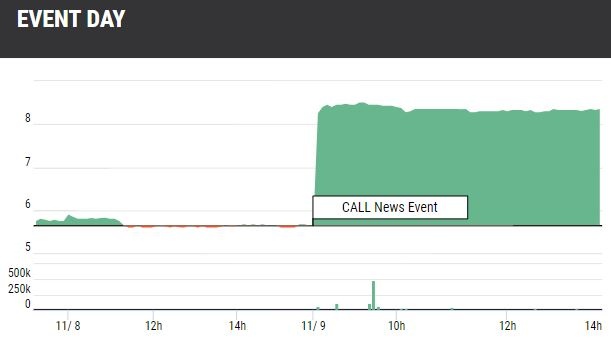 On Thursday morning, Magicjack announced that it has come to an agreement to be purchased by B. Riley Financial, a diversified financial services company. They will pay a price of  $8.71 per share, representing a 23% premium on CALL's price this morning.
Investors quickly moved to arbitrage this premium, buying the stock to the tune of 47% gains at the time of this writing. The stock still sits just below the reported acquisition price.
Magicjack Vocaltec is a leading provider of cloud-based VOIP services. The acquisition comes after an exhaustive review of strategic alternatives by Magicjack, whose stock price has been in decline since peaking near $25 in 2013. Magicjack initially rose to prominence through a device that enabled consumers to plug standard phones into a special USB adapter on their laptop, going around traditional phone service.
Riley hopes to achieve substantial operational synergies with Magicjack as it is integrated into their diversified portfolio of companies. They focus on operating a portfolio of firms with strong cash flows. Proven earnings continue to be the surest sign of explosive gains in this highly valued market.
Diverse Plays, Great Profits: All in a single news day.
Keep checking our blog for daily updates on lucrative new-based stock plays, analyst actions, and more!
We analyze news events ranging from clinical trials in the pharmaceutical industry to routine earnings releases to major geopolitical shakeups.
Or, if you're ready to move beyond the blog and experience the power of hedge-fund caliber news analysis in a package that's accessible to small investors, click here to sign up for a free training today. You'll see how easy to use our platform really is—and how many profitable trades it can unlock
A powerful news analytics platform like News Quantified not only makes it easy to track the news, but to quickly compare news events with key financial information. We make it simple to find strong, diverse plays in any market environment.
How are you using the news to earn market-beating profits? How would you use the news if you had access to a real-time platform like News Quantified?  Let us know in the comments below.