"Internet of Things" Stock Surges on Agreement with Discover
Despite occasional sharp selloffs—and thus increasing volatility—markets have exhibited a show of confidence this week. There seems to be a divergence of opinion among investors. Recent buying may reflect a widely-held belief that the Federal Reserve is prepared to tolerate some price increases to keep the economic engine churning. Elsewhere, some observers insist supply bottlenecks—and thus inflationary pressure—is building and bound to eat into earnings.
In today's trading, indexes ascended to a 3-week high as the bulls took over. Treasury rates seem to be calming down, even as commodities like oil and gold continue ascending. The coming months will provide vital clues as investors try to deduce the path of the macroeconomy.
News-based traders will only stand to benefit from the volatility/economic growth combination.
Each day on the News Quantified blog, we take a look at a small but profitable sliver of the hundreds of daily news alerts issued by our platform. We also offer free training on a weekly basis, including a virtual tour of our platform and some news-based stock trading tips to get you started. Use the button below to sign up: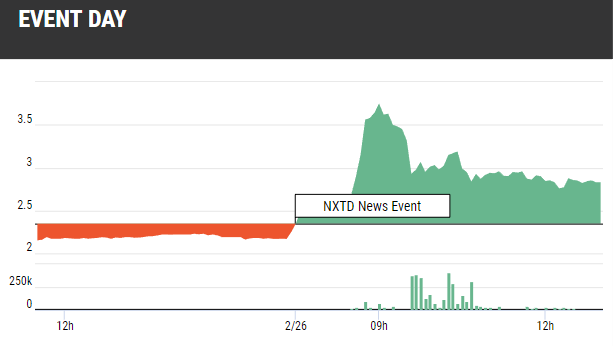 NXT-ID's stock ascended today on news that their wholly owned subsidiary FitPay has come to a new agreement with Discover, a major credit and payment services firm. Under this new relationship, The FitPay Payment platform will provision tokenized payment credentials through Discover Digital Exchange (DDX). Discover members will be able to quickly pay at retail locations using wearable FitPay devices.
FitPay is a payment platform designed to be integrated into various "Internet of Things" (IoT) devices. 15 device manufacturers have already integrated the device into their platforms, with this new Discover agreement expected to drive further adoption.
NXT-ID owns a diverse set of technologies, all targeted at potential IoT functionalities. In addition to payment with FitPay, their portfolio includes plays on IoT: access control, biometric and behavior-metric identity verification, security and privacy, encryption and data protection, miniaturization, and sensor technologies
Investors are enthusiastic, to say the least. The stock rocketed up to gains around 70% after the announcement; these gains have since consolidated to around 20% at the time of this writing.
The "Internet of Things," while certainly associated with some hype, is nevertheless one of the biggest technology trends driving market momentum in recent months. Broadly, enterprises are looking for opportunities to drive value by integrating now ubiquitous wireless connectivity with physical infrastructure. Whether you're a believer or skeptic of the heat of this trend, you can use news-based stock analysis to profit from the trend.
Keep checking the News Quantified blog as we sample some of the best opportunities available to our users.