Implantable Lens Stock Jumps on Earnings Beat
Daily Stock Market Primer: Markets are resuming their rollercoaster ride during this morning's trading. Major indexes fell sharply out of the gate, losing as much as 400 points—only to rally sharply, nearing positive territory at the time of this writing. Investors continue to digest strong earnings, macroeconomic headwinds, and potential trade conflict, leading to a highly volatile environment.
Among other news, Tesla (NASDAQ:TSLA) is plummeting—it gained initially after a modest earnings beat but fell after CEO Elon Musk called analyst questions "boring" during an earnings call. Investors meanwhile appear unsure of what to make of the Federal Reserve's policy announcement yesterday: they declined to accelerate rate increases but took note of bubbling inflationary pressure in the economy. Meanwhile, China and the US appear to be dialing back expectations for their trade summit this week.
With such cross-winds, we expect the heightened volatility of the past few months' trading to continue. Fortunately, volatility is actually associated with higher average profits for news-based traders. We hold totally free training seminars to show investors the foundations of news-based stock trading (and how simple this strategy can be to execute with a platform like News Quantified). Just sign up using the button below:
Today's Top Performer: Staar Surgical (NASDAQ:STAA)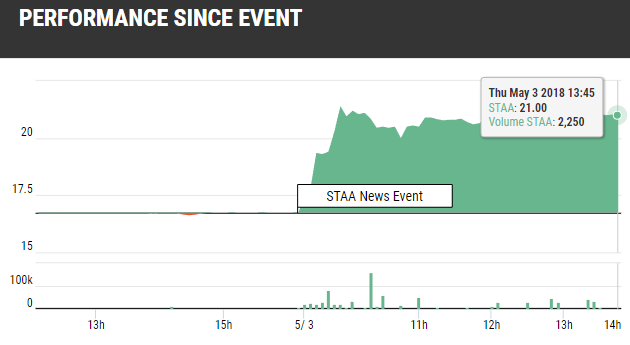 Staar Surgical, based in California, focuses on ophthalmic surgery devices, particularly the design, development, and marketing of implantable lens technology, along with the requisite delivery devices. These "implantable Collamer lens" (ICL) are designed to offer a more permanent to solution for contacts and glasses wearers. Over 800,000 are already in use today, and the tech could prove a lucrative market alternative to laser eye surgery.
Starr's earnings report, issued after the close of trading yesterday, contains almost nothing but intriguing news for investors. Net sales are up 33% year over year, with earnings per share moving into positive territory after small losses last year. Their core ICL tech is growing explosively as it gains to access to more and more global markets, particularly in Asia.
The report represents a Beat on analyst expectations; most observers didn't expect STAA to turn cash-positive quite yet. Investors have been buying up the stock since the announcement, leading it to gains as high as 34%, sitting up 26% at the time of this writing.
Earnings news continues to be a powerful source of profitable news events for News Quantified users. We've assembled a totally free guide to trading earnings news, which goes from defining important concepts to exploring how to begin taking advantage of these profits. You can access the guide using the button below: