"Human Capital" Blockchain Stock Surges
Daily Market Primer

:

The back and forth action for stocks continues, with markets posting a partial recovery from a steep drop as trading opened this morning. The downward movement was driven by the departure of White House economic advisor Gary Cohn, who was seen by many financial observers as a pro-commerce force in the Administration. Markets continue to appear skittish about the prospect of an uptick in global protectionism, but most analysts are unsure what sort of policies will actually result from the surge in protectionist rhetoric.

We can expect a busy week for markets in the second half of the week, with policy statements from the Japanese Central bank and ECB, plus a US jobs report, due out later this week. The dueling threats of trade war, price pressure, and rate increases should continue to make for incredibly eventful trading sessions.

News-based trading strategies continue to prove their mettle in this volatile environment. Keep checking our blog for a sample of some of the best performing news-driven stock trades generated by our platform. Our users are alerted of hundreds of profitable trades in real time every day.

We offer free training seminars (featuring some tips for finding news-driven profits and a virtual tour of our platform) on a weekly basis. Sign up using the button below:
Today's Top Performer: ShiftPixy (PIXY)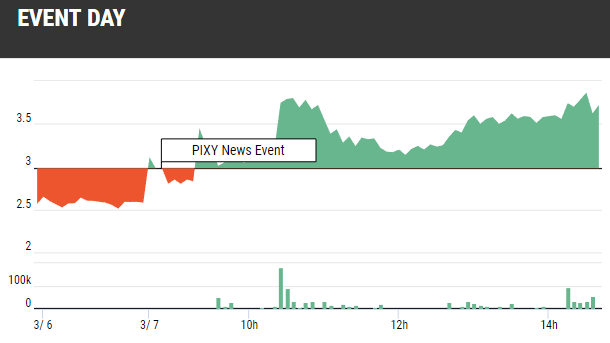 Blockchain stocks utterly dominated our Top Performer reports in the second half of last year. The white-hot sector has since cooled a bit as investors begin to more deliberately ponder the concrete use cases of blockchain technology, not to mention the regulatory environment for these applications.
This technology continues to drive significant market action, however, including today's Top Performer.
This morning, ShiftPixy announced its plans to leverage blockchain as a secured ledger for human capital transactions. They plan to drive value through a centralized, secured blockchain implementation used, for instance, in the transmission of critical personal data including social security number, date of birth, driver's license or passport details, bank account information, and tax forms. PIXY executives argue that blockchain offers an efficient solution (with unique transparency and cyber-security features) for their broader efforts to create a "disruptive employee engagement platform."
Investors appear enthused, buying the stock on heavy volume to drive it up around 25% at the time of this writing.
While the unabashed enthusiasm surrounding blockchain may be receding, investors are still hungry for plausible applications—particularly on the enterprise side—for the tech.