Gold-Silver Stock Shooting Up on Update from Joint Venture Project
Daily Stock Market Primer
Yesterday, markets pulled another shocking "feat of volatility." They surged out of the gate, shooting up as investors began to shrug off trade war fears.  Then, late in the day, markets began plummeting on news that the FBI had raided the offices of U.S. President Donald Trump's personal lawyer. In fact, markets erased nearly all of their impressive gains from earlier in the session.
Today, markets are again looking confident out of the gate. This time, a speech lauding global trade integration by Chinese President Xi is being broadly credited for salving investors fears. There's no sign of this dramatic trading letting up anytime soon: the international trade picture remains murky, conflict simmers in the Middle East, and central bankers continue to look for a path to monetary tightening.
Traders employing news-based, quantitative trading strategies are expected to continue thriving as markets churn. News events can create momentum for a given stock that easily swamps the magnitude of broader market sentiment. A stock reporting great earnings will surge—even on a bearish news day. And a company reporting troubles typically falls, even if markets are surging.
That's why hedge funds have been using news-based trading approaches for years. Now, platforms like News Quantified are making these strategies viable for smaller investors. You can learn how in our next (totally free) training seminar. We'll feature foundational tips for news-based trading, plus a virtual tour of our platform:
Today's Top Performer: Comstock Mining, AMEX:LODE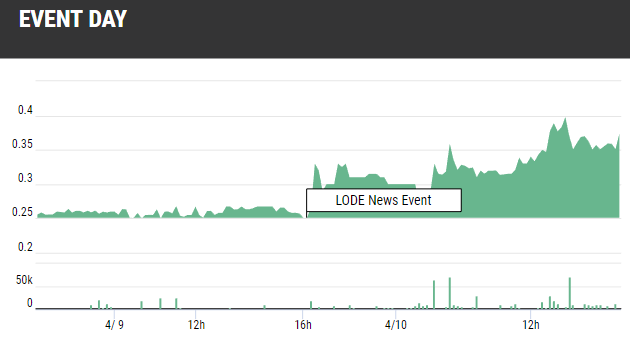 Comstock mining owns a large portfolio of potentially valuable mineral properties in Nevada. They then work with exploration companies to develop these potential mining sites.
This morning, LODE announced positive updates from its joint-venture with Tonogold (a mining firm focused on Nevada and Mexico). Tonogold is paying LODE for future mining rights in addition to taking on costs for exploring (and potentially developing) the property. Under the terms of their agreement, Tonogold will enter into a joint-mining agreement once they have invested $20 million in the project (a threshold expected to be reached in 2021).
Today's announcement pertains to the first phase of this agreement: Tonogold has completed a $1 million investment and paid $2 million to extend its option on the property. Current evaluation efforts center on the "Lucerne Mine," in addition to various nearby sites (mostly associated with the Silver City Branch of the Comstock Lode).
Tonogold will also be paying annual subsidies to Comstock to help reduce their debt load.
It's a perfect set of events for investors: slimming debt, explosive earnings potential, and optimism based on real capital being put forth by knowledgeable mining firm. Indeed, investors are buying heavily at the time of this writing, driving Comstock Mining up over 50%.