Gaming Stock Surges after Smashing Earnings Estimates
Daily Stock Market Primer
The wild ride for markets continues: they're posting a fierce rally today after struggling with trade pessimism last week.  US rhetoric insisting that tariffs are the prelude to negotiation continues to salve investor fears—for now. Tech stocks, in particular, are leading today's rally, with Facebook and Amazon posting nice gains. Investors may be trying to get a jump on a large slate of earnings results due for next week, which are widely expected to be positive.
While the day-to-day gyrations of global markets continue to be virtually impossible to predict, news-based traders, backed by quantitative trading strategies, continue to thrive. Our Top Performers from last week provide a great example; news-based traders don't need to predict the market. They also don't need to bear the same kind of risk as passive, buy-and-hold investors. Rather than depending on a particular market outcome, they profit on price-movement itself: stock price shifts driven by news events easily trump broader market momentum.
You can find out more about news-based trading (and how the News Quantified platform finally makes this strategy accessible to smaller investors) in one of our totally free weekly training sessions. There's still some space in our next session:
Today's Top Performer: Turtle Beach, NASDAQ:HEAR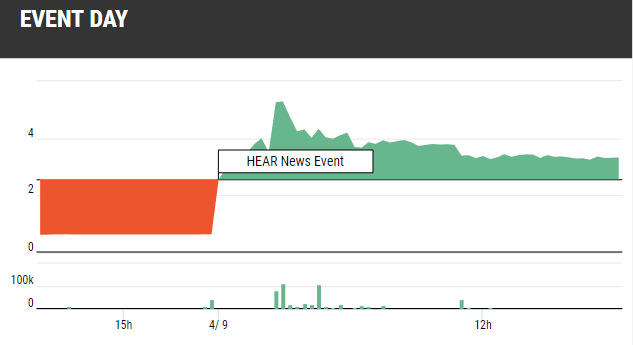 Turtle Beach specializes in manufacturing high-end headsets for video-gamers, in addition to similar audio accessories. This morning, they announced projected first-quarter revenues well in excess of expectations. They're expecting earnings around $3.5-4.5 million, over double their previously projected $1.5 million earnings for the quarter.
Such dramatic earnings beats routinely drive dramatic re-valuations by investors, and today is no exception. HEAR is sitting up over 30% at the time of this writing. That actually represents a substantial consolidation from earlier in the day's trading, when the stock had more than doubled.
Overall revenues are now estimated at $40 million, also a nice bump over guidance of $29 million. Turtle Beach's stock has been posting a nice march forward during recent months,  a welcome respite for a stock whose value had fallen far below 2015 peaks around $14.00.
While the retreat of recent months has created some more attractive valuations, we continue to operate in a steeply valued market climate. Earnings news can drive particularly dramatic price movement in this sort of environment: investors need to see growth to justify the valuations at which many firms are currently trading.
Keep checking the News Quantified blog for a small but powerful sample of the 1000's of plays available to our users every single week.