Gaming Headset Stock Up Sharply After Hugely Positive Quarter
Daily Stock Market Summary: Markets are continuing their bullish run for the week, with all major indexes up sharply at the time of this writing. A US inflation indicator coming in below estimates appears to be salving market anxiety over potential rising rates; US 10 Year Treasuries, meanwhile, retreated back from the 3% mark. Major indexes are now all sitting near 7-week highs.
If you're interested in learning more about quantitative strategies for news-based stock trading, we still have some space in our next learning seminar. These sessions are totally free. Attendees receive some foundational insights into what makes news-based trading so successful, how to get started, and how simple it can be with the right tools (you'll see a live preview of our platform). You can sign up using the button below:
It's been a profitable earnings season for News Quantified users. In some situations, our platform is able to find multiple rounds of profits from a single great earnings result. Today's Top Performer is a great example.
Today's Top Performer: Turtle Beach (NASDAQ:HEAR)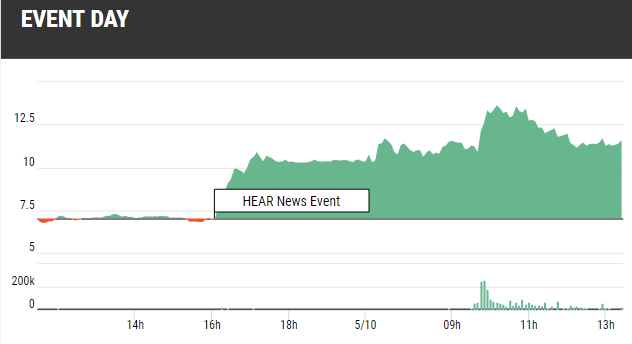 Turtle Beach, which manufactures headsets for voice communication during video gaming, issued an explosive earnings report after the end of trading yesterday: Net revenue increased 185% to $40.9 million. Net income improved to $.16 per share after operating in negative territory year-over-year.
Investors have been buying up the stock on heavy volume since the announcement. It's currently sitting up over 60%, which actually represents a pullback from 90%+ gains earlier in the session. Turtle Beach isn't expecting to see its market growth slow in the near future, and has revised 2018 estimates upward accordingly.
Interestingly, Turtle Beach predicted this positive announcement just a few months ago. Back in April, we featured HEAR as a Top Performer after it surged over 30% after announcing an upward revision to its projections for the quarter.
These dynamics illustrate just how many extra profits a good news analytics system can find, profiting on both projections of earnings and their eventual announcement. In fact, users who decided to hold the stock from the time of our initial April News Alert until the official earnings announcement are now up an astounding 350%+.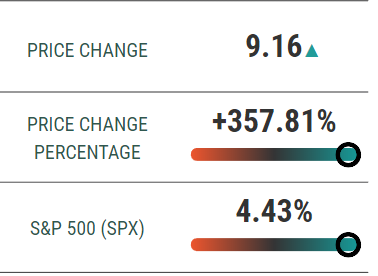 Keep checking the News Quantified blog for a small but profitable taste of the 1000's of plays available to our members every week.