Friday Roundup + Top Performer: Currency Crises Simmer, U.S. Consumer Economy Chugs Forward
Markets are following up yesterday's losses with a more modest retreat today. The NASDAQ has breached positive territory, but the S&P and Dow remain narrowly in the red. News broke that Canada doesn't anticipate reaching a trade deal with the United States prior to today's US-imposed deadline for negotiations, adding fuel to yesterday's trade brushfire. Negotiators from the US and its Northern neighbor worked overnight Thursday, and markets had been generally optimistic about the potential for an agreement.
The horizon remains filled with further storm clouds on the trade front: the Trump Administration confirmed a Bloomberg news report that the President is considering pulling the United States out of the World Trade Organization (WTO).
A humming domestic economy (today's trading still featured positive movement for big-name stocks like Apple and Nike) continues to duel with international commercial tensions to create a period of sustained volatility. We see no reason to expect this pattern to let up anytime soon. Despite the pullback late this week, major indexes remain just off all-time highs reached earlier in the week. Meanwhile, currency crises continue to spread across the globe, with trouble for the Argentinian Peso and Turkish Lira still simmering. Argentina has seen some progress since we last checked in, however, with the IMF pledging its full support to the embattled currency. Analysts are on the lookout for broader currency issues, with the Indian currency sitting near an all-time low.
The thriving US consumer economy continues to drive highly profitable news-based long plays, of which today's Top Performer is a great example. We're seeing an increasingly bifurcated performance in the rapidly changing retail landscape. Firms that are struggling to post sales-growth in this historically hot economy are almost certainly struggling to compete in the digital marketing and sales space. Firms that are able to adapt, however, continue to benefit from dramatic buying sprees.
Today's Top Performer: American Outdoor Brands Corporation (NASDAQ:AOBC) –
Big Gains on Strong Earnings Report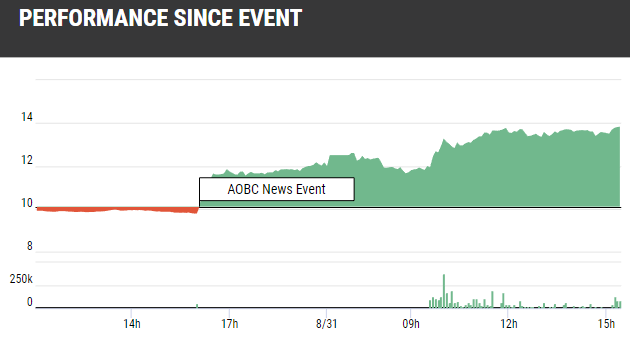 AOBC is a retailer focused on what they call the "rugged outdoor enthusiast," selling outdoor and equipment and firearms. They issued their quarterly earnings announcement during after-hours trading last night.
The reported quarterly net sales of $138.8 million, up over 7.5% from last year. With new gun offerings and rail lighting systems being credited for much of the sales surge. Overall earnings were the real source of investor enthusiasm, however, as the firm moved out of the red due to successful cost-cutting initiatives and scaled back sales promotions. The sustained growth even as promotions were reduced would seem to be a particularly positive indicator of the firm's market position. AOBC also paid down a line of credit as it seeks to shore up its financial position. They are continuing work on a major logistics and customer service hub in Missouri, which they expect to drive further cost-cutting through streamlining of their supply operation.
Investors have been buying up the stock on heavy volume, driving it to gains over 36% at the time of this writing, with the stock continuing to ascend a bit as Friday's session nears its close.
If you'd like to learn more about using the news to find market-beating profits, we recommend one of our complimentary virtual training seminars. There's no hard sell or obligation. We'll just undertake a hands-on demonstration of how our platform lets smaller investors get in on the tactics hedge funds have been using to locate out-sized profits for decades. You can sign up for a spot in our next session using the button below: