Energy Stock Surges on Puerto Rican Contract as Global Markets Retreat
Stock Market Week in Review: US stocks are falling sharply today amid a global selloff. US markets opened the holiday-shortened week down after European stocks posted a dramatic retreat overnight. Geopolitical concerns are confronting equities from multiple directions.
The Italian President rejected a key cabinet choice by the nation's recently organized populist coalition. Italy will plan on yet another set of elections in the coming year. Analysts broadly fear a populist challenge to the financial structure of the Eurozone, with European bank stocks particularly at risk. In the US, meanwhile, the Trump Administration has begun touting yet another round of tariffs targeted at China.
Major US financial stocks are leading the way down, with JP Morgan (NYSE:JPM), Goldman Sachs (NYSE:GS), Citigroup (NYSE:C), and Morgan Stanley (NYSE:MS) all down over 3% at the time of this writing. Investors appeared broadly concerned with the quality of global credit.
News-based trading approaches backed with rich historical data continue to easily beat market averages in the current market environment. Indeed, news-based strategies typically perform better in higher volatility contexts. Today is a powerful example: stocks being driven my meaningful news announcements feature momentum that easily trumps that of the broader market. In this way, news-based trading approaches not only maximize returns but limit "buy-and-hold" risk for the broader market in times of uncertainty.
You can learn more about using the news to beat hedge funds at their own game in one of our totally free virtual learning sessions. Just sign up using the button below:
Today's Top Performer: Mammoth Energy Services (NASDAQ:TUSK)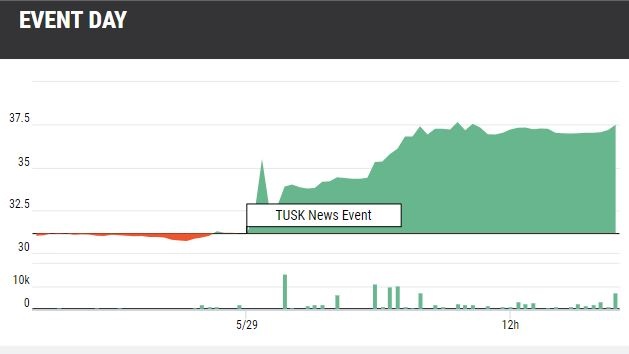 Mammoth Energy Services is an integrated energy service company, operating both a natural gas/oil exploration unit and an institutional infrastructure services division. Today, Mammoth announced that its wholly-owned subsidiary Cobra Acquisitions has signed a $900 million contract for working to restore power in Puerto Rico (the island's electrical infrastructure remains devastated from a hurricane last year). The contract focuses on restoration of key transformer units and associated early-stage restoration process.
The contract was awarded as the culmination of an RFP process that began this February. Investors are buying up the stock on the news, sending it to gains around 20% at the time of this writing. TUSK's current price level marks all-time high: it began public trading earlier this year
Keep checking the News Quantified blog for a small sample of the diverse, profitable plays available to our users each and every week. With an ear to the ground and an eye toward the data, our platform consistently finds profits in every market environment.