Earnings Season: Q3 Review, Q4 Kickoff – Morgan Stanley, Bank of America, Goldman Sachs, Netflix
Today, we're analyzing this week's kickoff for Q4's earnings season. The past few weeks have been particularly dramatic for equity traders, with a run-up to all-time records for major indexes followed by a dramatic multi-week fall that finally seems to be abating this week.  Markets stemmed the tide of the sharp pullback during last Friday's training, managing to end the day in positive territory. Yesterday, they put up some of the best one-day gains in months.
Most commentators perceive the fundamental state of the US economy as strong, but such optimistic earnings growth is already baked into stock prices that they may have had trouble sustaining their upward momentum. This earnings season will go a long way toward determining whether stocks can keep churning out the astonishing earnings growth that's pushed this years-long bull market.
We're faced with a complex macroeconomic scenario: rising interest rates, inflation that seems to be under control despite a booming domestic US economy, and a continued divergence between US and global markets (even after the recent pullback). Continued tension with both China and Saudi Arabia is keeping storm clouds on the horizon for international commerce. But markets have proved remarkably resilient so far. There's no simple scheme for predicting the outcome that will ultimately be driven by all these complex global variables.  Markets surged again yesterday after seeming to resume their fall on Monday.
Luckily, news-based traders don't have to have "the perfect theory" for predicting the path of the global economy (that's good because no one does!). You can read more about how news-based trading works here: a unique ability to diversify risk between shorts and longs and limit buy-and-hold risks through strategic hold time selection allows News Qunatified users to profit on the volume generated by news events like earnings announcements.
In today's blog, we'll review some of the biggest earnings events from Q3 and the set the stage with some initial results from what appears likely to be a dramatic Q4.
If you'd like to learn a bit more about earnings and how they drive the stock market, you can check out our free earnings guide here.
Q3 Earnings Review: Apple (NASDAQ:APPL) Beats and Keeps Chugging Upward
Apple was one of the big positive stories from last earnings season. As you can see here, their Q3 earnings, released July 31, drove same-day gains over 4.5%. This earnings data also drove sustained momentum for the stock, which is up 15.44% overall since the announcement (even after the recent pullback).
Key highlights of the report included:
EPS growth over 40% year-over-year, with Revenue up 17%, an all-time record 3rd quarter for Apple.
iPhone Sales slightly below expectations on a per unit basis, but sales dollars up due to higher average sale prices. Analysts have been skittish about Apple's ability to continue driving sales for the latest iteration of the iPhone (priced over $1000), but it appears to be increasing its sales revenue without shrinking its customer base.
Analysts can make a case for continued growth, especially in the "wearables" category (AppleWatch, AirPod wireless earbuds, Beats Headphones) which boasted 60% sales growth.
Apple has struggled to gain the foothold it would like in Asian markets, especially India and China, where lower-cost alternatives have a firm grip on consumer preference. Apple finally appeared to be making inroads this quarter, however, with sales growth over 15% in Asia overall.
Apple's performance was all the more remarkable as it came on the heels of a broad rout for tech stocks: Twitter and Facebook both fell over 20% on the heels of their own earnings announcements last quarter. We highlight each below.
Q3 Earnings Review: Facebook Falters, Twitter Tumbles
As you can see here, Twitter has suffered losses upon its last three earnings announcements. Interestingly, two of those were Beats. In today's stock market, Beats are so carefully managed that sometimes a narrow Beat is effectively treated as a miss, with expectations centered on a higher margin between results and analyst estimates (this dynamic is only coming to dominate the market more as earnings-based trading becomes more popular, which is one of the big reasons why a data-driven approach is essential when endeavoring to profit from earnings announcements).
For the past quarter, accounted as Q2 by Twitter, their results fell in line with earnings expectations, which drove a 4%+ same day loss that's since dragged onto into a 21.3% sag for Twitter:
Twitter has been particularly hard hit because, despite posting revenue beats, its monthly user base—a key ingredient for creating sustained revenue growth—has been shrinking in recent announcements.
Facebook, meanwhile, posted even more dramatic same-day losses on the heels of their earnings last quarter (labeled Q2 by FB). Facebook actually missed expectations, and investors reacted by selling off to the tune of 19% losses on the day.
Things haven't been pretty for Facebook since:
Highlights from that ominous report:
Facebook narrowly missed on revenue, $13.23 billion recorded vs. $13.36 billion projected.
Like Twitter, however, they also suffered from a declining daily user base: 1.47 billion vs. 1.49 billion. They did see some user growth in other IP like Instagram and WhatsApp.
Revenue generated on a per/user basis ticked up, but only slightly.
Meanwhile, Facebook seemed to aggressively tamp down expectations for growth for the second half of 2018. They seem to be steeling investors for more stormy waters ahead.
Substantial investments in privacy protections to achieve compliance with Europe's news digital consumer data protection law, the General Data Protection Regulation, are at least partially to blame for the earnings downtick.
Facebook also says its "Stories" feature, live video clips posted to Facebook, are growing in popularity but not monetized at this time.
Investors have taken Facebook's own guidance to heart: the stock is down almost 30% overall since last quarter's earnings. There's certainly a chance that it's fallen far enough that it could see a bump on any sort of respectable performance in its next earnings announcement.
Q4 Earnings Get Started with a Bang
Q4 earnings announcements are just getting started, and this week centers on a salvo of notable announcements from big banks and Netflix.
The banks' results represent an interesting test for the economy: while higher interest rates are perceived as a drag on the economy as a whole, they're generally regarded as a positive for the earnings-generating ability of bank. A higher cost of credit, which banks "sell," leaves more margin for some profit as part of the financing. While higher rates mean higher borrowing costs, more profitable banks also have more liquidity to support their clients and take on added risk. The markets' response to these dueling dynamics may do much to set the mood for the coming quarter.
Strong results could be perceived as an acute buying opportunity after last week's losses, and we'd expect to see some dramatic action on the upside for stocks posting strong results. Meanwhile, last week's losses would seem to indicate that investors are becoming more wary of results as the business cycle ages on.  Any misses could be rewarded with a brutal selloff.
All in all, we have every reason to expect the sort of high volatility earning season where news-based traders can excel. So far, those expectations are being met—and largely to the upside…
Big Banks: Bank of America, Goldman Sachs, and Morgan Stanley – Background
Bank of America (NYSE:BAC) reported results Monday. Analysts had expected to see $0.62 in earnings per share (EPS), as well as $22.67 billion in revenue. Bank of America Corporation had jumped on its last earnings report but had gone flat since. It's looking to restore momentum  and regain its skyward trajectory of the past several years:
In the same vein, Morgan Stanley (NYSE:MS) released results yesterday. Analysts had called for $1.02 EPS and revenue of $9.56 billion. Another venerable financial institution, their numbers will continue to shape investors' mood for the quarter for some time. Like Bank of America, MS has had an outstanding three-year run but is looking to restore momentum that's flagged a bit during 2018. They had Beat on their past four earnings reports, but markets hadn't responded much, gaining a maximum of 1.1% in response.
Investors also had their eyes wide open for Goldman Sachs (NYSE:GS). They, too, had recorded Beats in recent earnings announcements but seen a relatively muted response from markets, moving less than 1% in response to each of their past several releases.
Like the other banks, they've had an excellent three year run but are looking to restore some momentum lost over the past year.
This trend appears to have shifted, however.  Markets appeared a bit more impressed with this quarter's results…
Big Banks: Bank of America, Goldman Sachs, Morgan Stanley – Results
Morgan Stanley posted a nice Beat Tuesday morning, with $1.17 EPS v. $1.02 expected. Revenue beat expectations in virtually every business segment. The stock is up over 4% since the announcement at the time of this writing.  
Bank of America beat expectations with $.66 EPS v $.62 expected. Their vital profit margin on lending increased 4 basis points to 2.42%, beating analyst expectations by 1 basis point and suggesting that higher lending costs will lead to some bonus cash flow for BAC. Investors appeared initially unenthused by this result, but early losses have since eased into modest gains for BAC.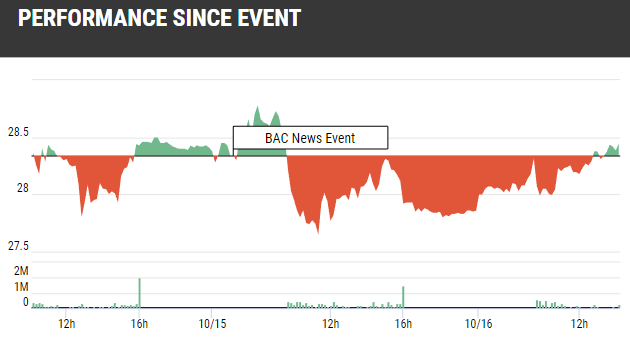 Goldman Sachs also smoked estimates, coming in at $6.28 EPS v. $5.38 expected. Their stock has gained over 1%, breaking the pattern of market disappointment for GS's recent earnings announcements.
Big Week for Netflix—Background
Next up is another member of the vaunted FANG grouping, Netflix (NASDAQ:NFLX), which released earnings data on Tuesday after markets closed. Consensus estimates projected an EPS of $0.68 and $4.0 billion in revenue. Gangbusters growth has been the high-profile story for Netflix over the past several years, but, like the banks we highlighted, it has seen a retreat from a record-setting peak over the past several months:
Netflix has had some particularly wild swings in recent reactions to its earnings releases. The stock fell 5.8% after a Beat posted in July for its last earnings release. But the Beat before that led to a 8.9% jump. And in-line results posted in January led to a jump over 9.5%.
Like Twitter, these results seem to suggest that investors are tracking auxiliary indicators like user growth as much as traditional earnings for Netflix. Last quarter, the company reported 5.15 million new subscribers, down from 7.41 million the previous quarter and under what management had projected (6.2 million) in April.
Netflix executives appeared unphased by those results, which they attributed to organic unevenness in growth ("some lumpiness in the business"). MarketWatch quotes NFLX CEO Reed Hastings arguing, "we've seen this movie of Q2 shortfall before, about two years ago in 2016." Netflix emerged unscathed from a brief down-tick in user growth in 2016 and has posted excellent growth since. Netflix had posted a steady stream of reports in which it exceeded subscription growth estimates prior to last quarter. Netflix executives, however, have consistently insisted that (unlike carefully managed stock earnings) these user projections are genuine "best estimates," meaning results are theoretically just as likely to come in under projections as over.
Nevertheless, investors were looking for reassurance in this week's results, and we could see a relatively dramatic reaction continue to unfold in reaction to markedly positive results…
Big Week for Netflix—Results
Netflix surged in after-hours trading in immediate response to its earnings announcement. We'll have to keep an eye on it today to see if it can sustain immediate gains over 16% (those had receded slightly at the time of this writing).

Highlights:
EPS of $0.89, a handy Beat compared to estimates of $0.68,
Revenues were in line at $4.0 billion. 
The growth driver, user base, is almost certainly what truly has investors so excited. For Q3, Netflix added almost 7 million subscribers globally, well above estimates around 5 million. Netflix raised projections for Q4 subscriber growth, also more than predicted by analysts.
There's no clear reason Netflix couldn't again attain the heights it reached earlier this year if it can prove that its user growth remains on track, and yesterday's release goes a long way in that regard.
Netflix still burns through huge piles of cash, developing unique content to increase marketability in a highly competitive streaming market. This content should create a value stream that lasts decades into the future, but it does represent a massive hit to current liquidity. They only expect to accelerate their expensive development efforts this year. With this model in place, Netflix is particularly dependent on sustaining user growth despite a substantial base of paying subscribers: more users will be needed to ultimately justify the massive scale of their current content development budget.
Meanwhile, fierce competition faced by Netflix doesn't appear likely to abate anytime soon. Already dueling with Amazon's Prime Video and Hulu, a titan-tier competitor from Walt Disney appears to be on the horizon. AT&T is also hard at work on an expanded streaming service (the popular HBO Now Service is already part of the AT&T ecosystem).
Today's results seem to be making a persuasive case to investors that Netflix still has the sheer growth potential to overcome these headwinds.
Learning More
All in all, the sort of steady earnings growth that investors deemed disappointing earlier in the year appears to be salving anxieties and making for some solid gains in the current market environment.
Check in again with the News Quantified blog on Friday: we'll recap more of the week's earning releases after this key week for the stock market. In the meantime, you can always learn more about earnings via our complimentary introductory guide to earnings. We explain some of the most commonplace earnings jargon, explain how earnings are recorded and released, and look at how Regulation Fair Disclosure has finally made earnings-based strategies accessible to smaller investors.
Earnings are only one piece of the news-driven data streams baked into the News Quantified platform (we also cover key datapoints like Analyst price targets), but they're certainly the data point that most consistently rattles headlines and sets the tone for the overall market.