Discount Retailer Stock Shoots Up 100%+ as Finances Solidify
Daily Stock Market Primer:
After sharp losses during yesterday's trading, markets are posting a modest recovery today. Boeing—which lead the Dow down yesterday—is leading the pack back up today, with the Dow up solidly while the S&P 500 and NASDAQ idle near zero. Solid manufacturing data, coupled with lessening pressure on interest rates, appears to be driving the rebound.
Volatility continues to drive a market that's increasingly difficult to predict. Luckily, news-based, quantitative trading strategies actually improve their performance as volatility increases. You can find out why in one of our free weekly training seminars. There's still space left in the next session: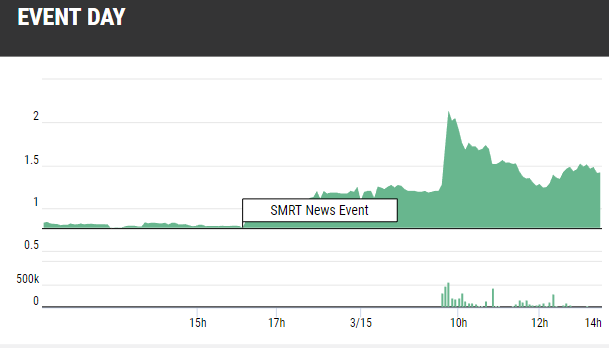 The decline of traditional retail has been a major multi-year trend for equity markets. Stein Mart has been one of many stocks pressured by the move to online purchasing: their stock sank from 2015 highs around $12/share to the sub-dollar range. Stein Mart is a discount clothing and home goods retailer, offering name-brand products for value-conscious shoppers.
News-based trading often means following these macro-market trends. But it can also mean using these trends to find unexpected value as firms seek to adapt to a changing market environment.
Stein Mart is up sharply in today's trading, nearly doubling so far during the session, on solid earnings news, paired with a new credit agreement. It advanced as much as 200% before consolidating at its current price point.
Credit agreements can provide multiple indications to traders. First, and most directly, they improve the liquidity situation of the firm: SMRT now has $60 million plus in cash plus credit line. More broadly, this agreement tells us that a major financial institution (in this case Wells Fargo) inspected Stein Mart's financials and found them satisfactory.
While down from its all-time highs, SMRT has managed to consolidate its financials into a solidly profitable business model. Net operating income for 2017Q4 was 4 million after an 8 million dollar loss in the same quarter 2016.
Keep checking the News Quantified blog for a small sample of the 1000's of news-based stock plays available to our members each week. We make money on some of the hottest trends, like blockchain, tech, and pharmaceutical breakthroughs. But we also find some of our most profitable trades on mundane but lucrative events like today: a struggling retailer regaining its footing. A quantitative, news-based trading strategy enables smaller investors to attack the market using a diversity of strategies that big hedge funds have been milking for years.