Building Materials Stock Skyrockets on Acquisition Plans
Daily Stock Market Primer:
In recent weeks, whenever markets appear to have settled on a new reading of global events, they have subsequently veered in an unexpected direction. Since February we've seen stocks swing from a huge upswing to start the year, to a sizable correction, then an impressive resurgence. All that has been followed by a downtick on fears of an upsurge in protectionist policies, immediately followed by another surge after impressive job gains with decelerating labor costs.
The "return to volatility" remains the only consistent narrative for the current market environment. Volatility actually enhances the ability of news-based trading strategies to exceed average market returns. We discuss this, and other foundational principles for news-based trading in our weekly training sessions (they're totally free; you can sign up using the button below).
Like clockwork, after huge gains on Friday, stocks are broadly down during today's trading. The NASDAQ is in positive territory: tech stocks appear to be avoiding the broader pain imposed by tariff fears. Meanwhile, impressive runs by mega-cap tech firms like Amazon and Netflix continue to anchor markets amid a broader selloff.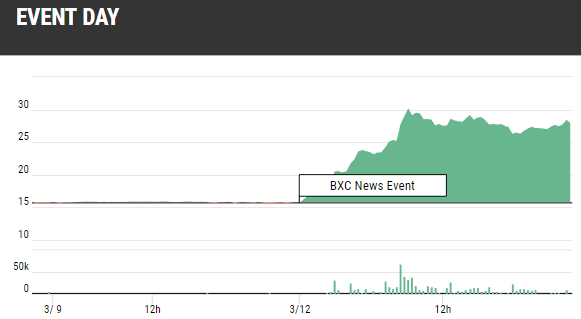 This morning, Bluelinx, a major distributor of building and industrial products in the United States, announced plans to acquire Cedar Creek, another major player in the same space. The new combined entity will boast an impressive market presence, with 70 locations servicing 40 US states.
The total purchase price comes to $413 million. In addition to adding to the breadth of their sales infrastructure, the new firm will boast a deeper roster of products (over 50,000 SKU's). Such products include premium and industrial lumber, engineered wood products, siding and trim, molding, roofing, vinyl products, insulation, structural panels, and metal products. Both firms also feature a substantial capacity to fabricate variations of these products on demand—a market space outsource by many competitors.
Investors have been buying the stock on heavy volume following the announcement. The stock sits up around 80% at the time of this writing. It has surged to gains as high as 100% at times during today's trading. Traders appear enthusiastic that the new entity will boast sufficient market power to boost earnings growth well beyond prior expectations for Bluelinx.
Keep checking our blog, where you'll find a diverse sample of the 1000's of profitable stock plays (both long and short) available to our members on a weekly basis. As market volatility continues to surge, news-based trading is a proven strategy to find consistent gains while limiting overall risk exposure during this volatile period.