Blockchain Lending, Stockholder Profits: 12/18 Top Performer
Bolstered by solidifying prospects for tax reform in the US Congress, markets are broadly up so far this Monday. The bill would lower the US corporate tax rate from 35% to 20% in many cases.
In a fitting end-of-year performance for a year defined by investor optimism, multiple indexes are pushing up against their all-time records each day as the year approaches its conclusion.
Today's Top Performer is in keeping with both the investor optimism which has defined the trading year and the hottest sector: blockchain. Blockchain related stocks, seemingly whatever their underlying business model, have dominated our Top Performer reports in recent months.
Whether you're a Bitcoin believer or a skeptic looking to ride out the momentum of a transient fad, News Quantified offers power tools to profit on blockchain long plays.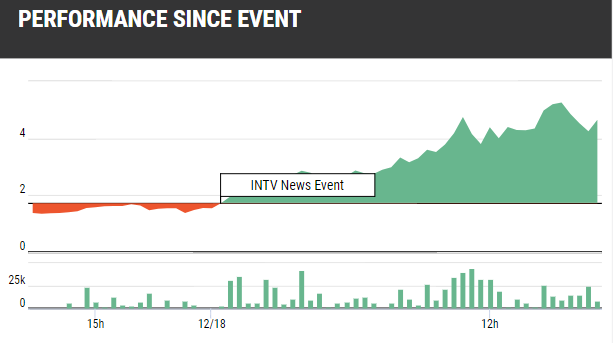 Their new product, called CryptoFunder, is designed as a financial blockchain platform that acts like a "decentralized and encrypted lending ledger." INTV wants CryptoFunder to act as a general clearing house for crypto finance, tracking loans denominated in digital currencies, clearing payments for these loans among various currencies, and so on.
The project is being funded from INTV's digital mining operations. This cash flow will continue funding development of the platform, effectively utilized as collateral as INTV works to get its lending operations rolling.
Investors bought the stock on dramatic volume, driving the price up over 100% at the time of this writing. The stock had advanced as much as 200% on the session before consolidating at its current price point. Investors appear to remain bullish on every conceivable application of blockchain, from security, to marketing, to finance.
Diverse Plays, Great Profits: All in a single news day.
Keep checking our blog for daily updates on lucrative new-based stock plays, analyst actions, and more!
We analyze news events ranging from clinical trials in the pharmaceutical industry to routine earnings releases to major geopolitical shakeups.
Or, if you're ready to move beyond the blog and experience the power of hedge-fund caliber news analysis in a package that's accessible to small investors, click here to sign up for a free training today. You'll see how easy to use our platform really is—and how many profitable trades it can unlock
A powerful news analytics platform like News Quantified not only makes it easy to track the news, but to quickly compare news events with key financial information. We make it simple to find strong, diverse plays in any market environment.
How are you using the news to earn market-beating profits? How would you use the news if you had access to a real-time platform like News Quantified?  Let us know in the comments below.