Biotech Goldrush Continues: 12/11 Top Performer
Markets came out the gate with some momentum but hit a snag later in the session. At the time of this writing, however, the bulls were slightly winning the tug-of-war, with most major indexes slightly up on the day.
Our Top Performer today is a long play has already posted some stunning same-day gains. The biotech sector provided us with today's long profits; the sector has dominated our Top Performers over the last week.
This trend may be indicative of the current market environment. With most stocks valued fairly high relative to earnings, investors are searching for more speculative technology plays: betting that promising new biotech and pharma solutions will generate large future revenues. Whether you're long on these technologies over a longer time horizon, or just looking to trade off of momentum and prevailing market sentiment, News Quantified provides a powerful tool for smaller investors to cash in on emerging pharma and biotech news.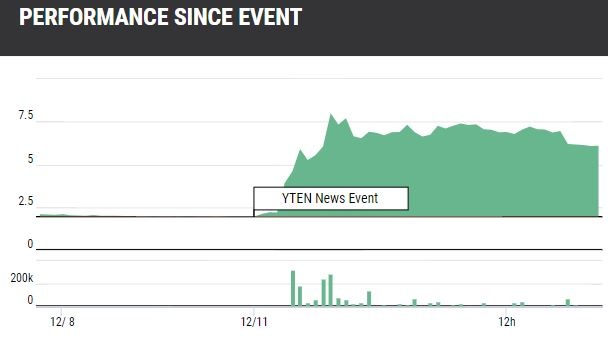 This morning, Yield 10 Bioscience announced that they had arrived at an agreement to license new soybean genes for study by the biotech giant Monsanto. Yield 10 focuses on developing new genetic traits for crops that will improve overall yield for major food and feed crops. Monsanto will be researching two new genes developed by YTEN; they seek to increase the carbon absorption of soybean plants, thus improving the efficiency of their overall photosynthesis process.
The news kicked off an utter buying frenzy for the stock: YTEN was up over 200% at the time of this writing, and had advanced as much as 300% earlier in the session.
These gains likely reflect the strong signal from Monsanto, the world's leading soybean production expert, on the commercial viability of Yield 10's new genetic approach. As part of the announcement, Monsanto noted that they "are also impressed by Yield10's metabolic engineering and advanced carbon flux modeling capabilities."
Diverse Plays, Great Profits: All in a single news day.
Keep checking our blog for daily updates on lucrative new-based stock plays, analyst actions, and more!
We analyze news events ranging from clinical trials in the pharmaceutical industry to routine earnings releases to major geopolitical shakeups.
Or, if you're ready to move beyond the blog and experience the power of hedge-fund caliber news analysis in a package that's accessible to small investors, click here to sign up for a free training today. You'll see how easy to use our platform really is—and how many profitable trades it can unlock
A powerful news analytics platform like News Quantified not only makes it easy to track the news, but to quickly compare news events with key financial information. We make it simple to find strong, diverse plays in any market environment.
How are you using the news to earn market-beating profits? How would you use the news if you had access to a real-time platform like News Quantified?  Let us know in the comments below.