Big Profits from Chinese Real Estate: 1/3 Top Performer
The markets are truly off the starting blocks for 2018, and so far look to be establishing some bullish momentum. Solid earnings and continuing reassurance from macroeconomic data pushed stocks broadly higher on the session. Virtually every major index posted solid gains, with the Nasdaq leading the way.
Many analysts expect to see more of this bullish energy become focused on international equities as the year moves on. As US stocks reach toward higher and higher valuations, investors may begin looking abroad to find stronger upside potential.
Today's Top Performer is our second stock in a row that suggests there may be something to this trend.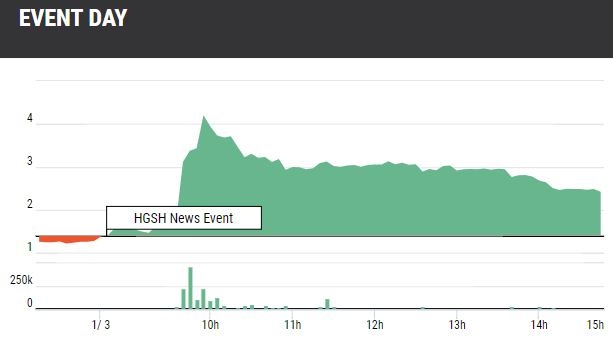 China HGS Real Estate is regional real estate developer based in Hanzhong City, Shaanxi (HGS). They chiefly focus on high-rise style residential complexes.
They reported their 2017 revenues today, generating $58.7 million—up 45% from FY16. What's more, the income appears more solid than in the previous year—the portion of their earnings accounted based on a "completion method" is lower. The "completion" method refers to the real estate development practice of valuing projects at some percentage of their value based on the percentage of the project completed.
As more of HGSH's revenue becomes actual cash flow rather than accounting profits, investors receive greater assurance of the ultimate financial viability of these projects.
Investors indeed appeared enthused about the financial potential of the stock, buying it on heavy volume. The stock was up 90% at the time of this writing—actually a consolidation from gains well over 200% earlier in the day.
Diverse Plays, Great Profits: All in a single news day.
Keep checking our blog for daily updates on lucrative new-based stock plays, analyst actions, and more!
We analyze news events ranging from clinical trials in the pharmaceutical industry to routine earnings releases to major geopolitical shakeups.
Or, if you're ready to move beyond the blog and experience the power of hedge-fund caliber news analysis in a package that's accessible to small investors, click here to sign up for a free training today. You'll see how easy to use our platform really is—and how many profitable trades it can unlock
A powerful news analytics platform like News Quantified not only makes it easy to track the news, but to quickly compare news events with key financial information. We make it simple to find strong, diverse plays in any market environment.
How are you using the news to earn market-beating profits? How would you use the news if you had access to a real-time platform like News Quantified?  Let us know in the comments below.