Artificial Island Stock Sinking Fast: Short Report
Before the recent market correction, the "narrative" dominating market behavior was remarkably consistent. Volatility remained low, seemingly no matter what happened. Stocks moved up, largely in unison, no matter what the news, no matter what analysts predicted.
Markets have posted a solid comeback since their early February fall, but a new market narrative is dominating with equal consistency: the return to volatility. Every rally seems to be followed by a selloff, but any significant downturn seems to trigger a wave of buyers. Analysts are trying to explain the action, but for now, there's clearly a divergence of opinion among equity investors regarding the direction of the market.
The pattern continues today: yesterday's show of confidence is being followed by a sharp selloff during today's trading. All major indexes were down at the time of this writing and losing ground as the day wears on.
All this market churn only increases market-beating profit margins for news-based stock traders. We hold free introductory seminars for news-based stock trading strategies (including a virtual tour of our platform) on a weekly basis. Use the button below to sing up:
Today's Top Performer is a short play. Markets are down sharply, but this "artificial island" stock easily beat the field on the way down.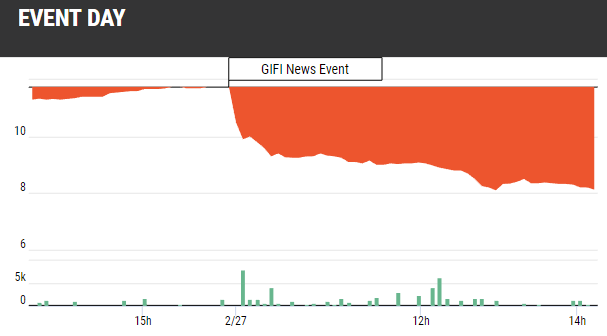 As volatility increases and inter-stock correlation eases, a practical effect is investors who are much more picky about earnings data. Bears fear rising input prices in a hot economy, and that price pressure can become manifest in narrowing profit margins.
In that vein, Gulf Island Fabrication has been plummeting today after reporting some brutal losses this morning, subsequently being downgraded by at least one prominent analysis group. They lost over $24 million in the last quarter. Cost overruns on a  major project added to dire financial straits for GIFI, which, facing lax demand for its products, is seeking to diversify.
Based in Houston, Texas, GIFI manufactures floating structures for the energy sector, including oil/gas platforms and offshore wind-turbine bases. They have manufactured some of the largest offshore platforms in the world. They're having trouble "staying afloat" however, facing the twin waves of stiff competition from land-based fracking production capacity in the US, and generally slack global energy prices.
Investors have been selling off the stock on heavy volume since the news, driving it to losses over 30% at the time of this writing. For their part, GIFI isn't facing an immediate liquidity crunch, with some cash on hand and solid credit access. They are in the process of selling off some major assets as they attempt to pivot to a leaner balance sheet.
Keep checking the News Quantified blog for a small taste of the diverse array of news-based stock plays enabled by the News Quantified system.