Analyzing Apple's Earnings Explosion + Trillion Dollar Milestone
The consumer technology giant Apple (NASDAQ:AAPL) made headlines this week when its market cap grew to over $1 Trillion. This growth was driven by a fantastic earnings report, released in extended-hours trading on Tuesday.
As regular readers of our blog know, extended hour earnings releases represent a consistent source of profit for News Quantified users. Today, we're going to review our data on Apple's earnings announcement and look at how simple it can be to turn great data into reliable profits.
Based on past Apple earnings announcements, our system suggested the following average outcomes from Apple's announcement.
As you can see, there are far more earnings "Beats" than "Misses" in the sample from Apple. That's no coincidence: firms carefully manage their expected to earnings in order to consistently beat them. Another important datapoint: note how Apple has posted strong growth at the 6-and 12- month marks (even after misses). At that length of time, we begin to see the effect of broader market growth (amid a great period for APPL stock), rather than the impact of the news events themselves.
Note, meanwhile, that the impact of Apple's earnings announcements has not receded past the one-day mark. In fact, they inch up in each of the days immediately following Apple's earnings beats. This shows us that investors, in aggregate, aren't trying to sell off the stock after its price is bumped up by positive earnings news.
We would consider purchasing on some stocks' earnings news events with a one-day hold time, especially those that show a tendency to jump and then fade. But, based on News Quantified's data, Apple looked like an excellent candidate for a longer hold (5-days, for instance) for maximized upside.
How did things turn out? Like this: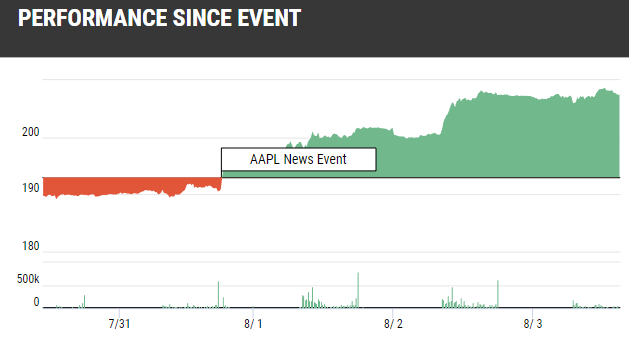 Just as the data predicted, we've seen continued positive momentum from Apple's earnings release. The action was even more dramatic than usual, with Apple posting a truly outstanding report after months of unease over middling sales numbers for its most expensive flagship cellphone models. Earnings Per Share came in solidly above Wall Street's estimates, at $2.34 v. $2.17 expected (a 40% YOY increase). Revenues were up 17% YOY overall.  As much as improved cell phone sales numbers, investors appear enthusiastic appear enthusiastic about Apple's aggressive expansion into the services space. Revenue from services is up 31% year over year. This performance is all the more remarkable when considering the rout suffered by other tech giants this week.
Meanwhile, other analysts appear interested in growing synergies between Apple's consumer product offerings. As reported by MarketWatch, analyst Laura Martin asked Apple CEO Tim Cook whether offerings like the Apple Watch were driving customers to the iPhone or simply benefiting from iPhone's pre-existing user base. "Both," Mr. Cook answered, confirming that some customers are "attracted to [the] iPhone because of the Apple Watch."
Earnings news is just one of many ways the News Quantified platform combines news analytics with stock market data to find sustainable, market-beating equity profits. Wall Street Titans have been cashing in on this approach for years; democratized data is finally offering smaller investors a level playing field. If you'd like to learn more about news-based trading, the research it's built on, and how our platform makes it so accessible, we highly recommend one of our totally free virtual training seminars. There's no obligation or hard sell, just an up-close tour of a platform that's finding profits for our users every single day. You can sign up using the button below: