A Quick Tour of News Quantified's New Interface
We rolled out a new update to the News Quantified interface last week. It's full of tweaks suggested by our users to improve on the easy-to-use, data-rich interface that's driving the News Quantified's growth in the crowded stock analytics marketplace.
As we take a brief tour of the platform, keep in mind that there's no one right way to utilize this information. We built our platform to let all types of investors benefit from the real-time news analytics that big financial institutions use to find profitable plays every day.
Getting Started
You can login to News Quantified using the login button at the top right of our homepage at NewsQuantified.com. Many users prefer to keep a bookmark directly to the login page, which can be accessed here. Returning users should note that the new platform is located at app.newsqunatified.com (changed from newsquantified.com/analytics)—so update those bookmarks.
All of the core pages for News Quantified can be easily accessed using the navigation bar at the top of every screen. We review each individual page below.
Price Signals
Upon logging in, you'll be taken to the Signals Screen, always a great place to begin researching trades.
As you can see below, you can easily configure the table to show Top Upgrades or Downgrades for any specified date and a variety of desired hold times.
Key information includes the symbol of the stock in question, the name of the financial analysis firm changing the stock's rating, and the old/new price targets.
All of the columns are fully sortable, and the button to the right of the "Hold Time" drop-down lets you quickly apply filters for variables like market cap and volume ratio.
The table to the right shows aggregate data from the selected period, giving you a quick snapshot of overall news-driven momentum in the market.
News
While the Signals page is a great place to begin researching trades, the News page allows you to dive into news events at a more granular level.
This page shows all stock related news events for a selected day or multi-day period. Like the signals page, the table is fully sortable. A wide variety of filters are available (using the small button to the left of the alert button)
Additionally, you can set up alerts (deliverable via e-mail or SMS) using a variety of criteria, such news items from a given analysis firm, from a particular stock, or by market cap.
Returns Matrix
Next up is the Returns Matrix, where you can research the ideal hold time for potential trades.
At the top level, you can choose to view Analyst Action Returns (Upgrade/Downgrade), Earnings Returns (Beat/Miss/Inline), or Historical Top Performers.
Next, you can choose to review returns for the selected category based on categories like Market Cap, Volume Ratio, and Action-Initiating Firm. Or, you can view overall averages under "Summary."
For the selected category, the Returns Matrix will display the average expected return for a variety of hold times up to 12 months.
Simulated Returns
Simulated Returns enables you to test potential news-based trading strategies against historical data.
You can create your own query or use one of our pre-generated templates. For instance, below you can see returns since 2012 for a portfolio traded using the following parameters: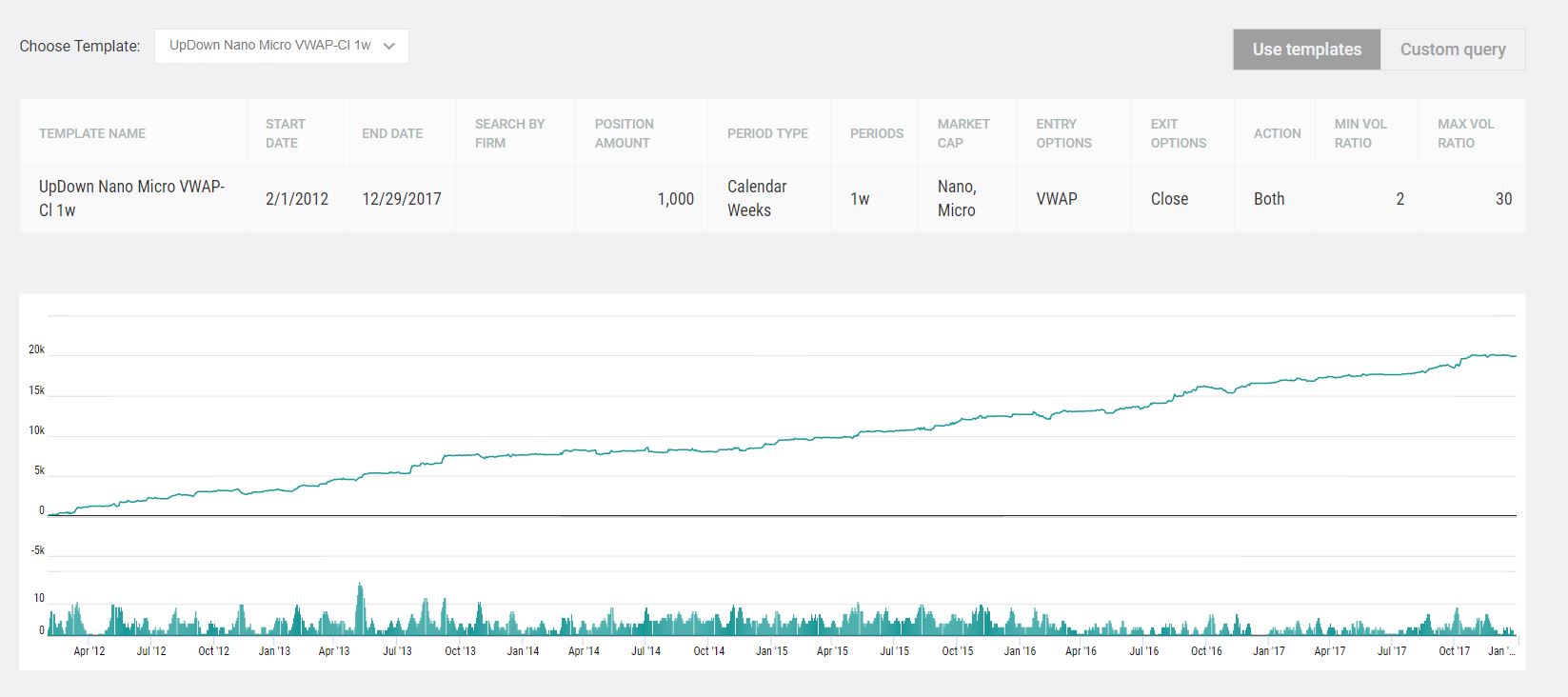 Earnings
For users pursuing a trading strategy focused on earnings news, this page provides a more detailed, earnings-focused view.
You can see all earnings news announced during a selected period, and whether that news constituted a beat or miss relative to analyst expectations.
Visuals
The visuals tab doesn't contain any new data that's not accessible from the Signals or News pages. However, it lets you place volume and return data on graphical axes, quickly giving you the "big picture" of returns associated with a given news-driven trading volume.
Company
This page is only relevant to users of corporate accounts. This dashboard puts all the important stock-related news information for your company—and its competitors—in one easy to access location.